2017 Nissan Maxima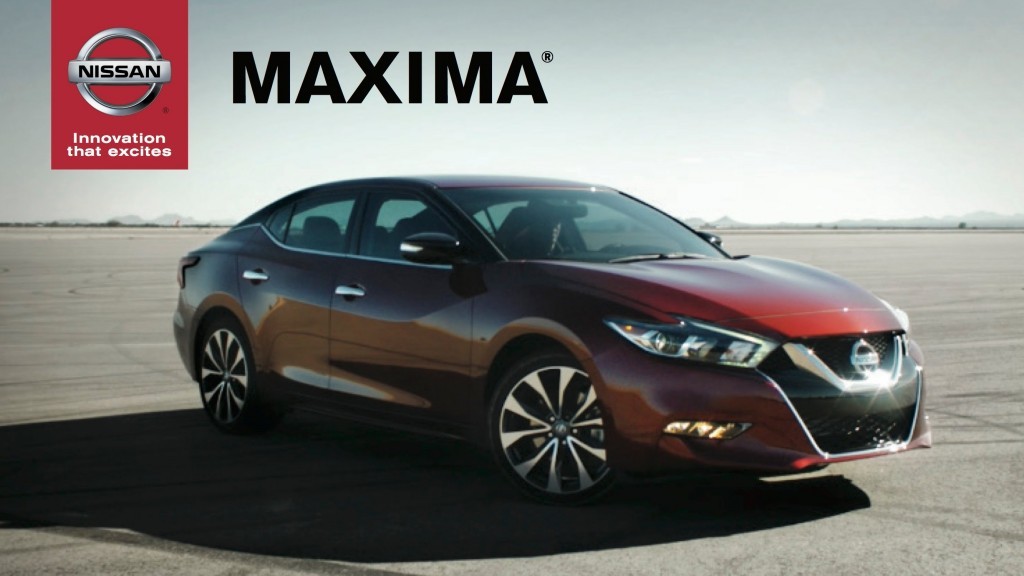 The 2017 Nissan Maxima is coming to Thomas Nissan of Joliet, IL. It's a sports sedan with rousing performance, in-your face design, and an interior capable of curing the most festering crossover urge. While other makers dump V-6s to add a hybrid powertrain, or an all-wheel-drive option in their family sedans, Nissan is sticking to its Maxima guns with what it once again is touting as "the four-door sports car."
The All New 2017 Nissan Maxima's Features
Maxima's cutting-edge technology connects you to your ride, and the road, like no other sports sedan. The standard 8" multi-touch screen and the 7" Advanced Drive Assist Display keep key information as close as a glance. A standard Navigation System guides you to where you want to go, and with navigation "Swipe to Meter", you can even send map directions from one screen to the other with just a touch.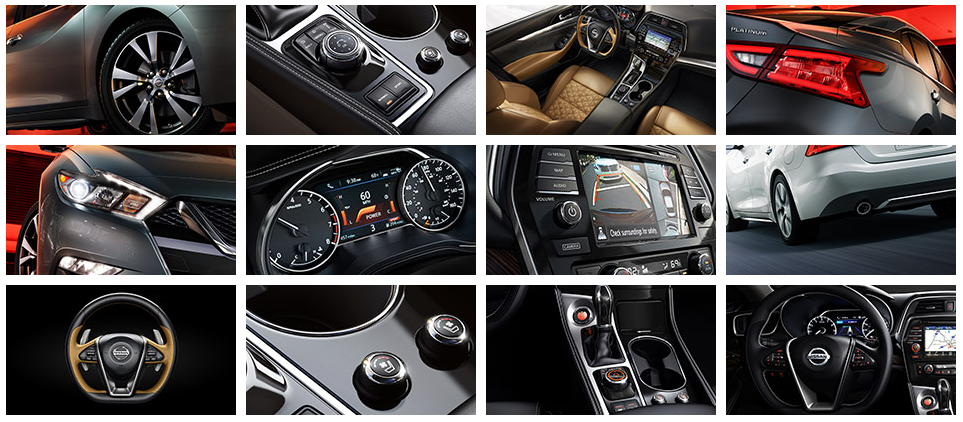 Advanced safety technologies help the Maxima gain momentum over carry-over competitors. The top three trim levels pack intelligent cruise control, blind-spot warning, rear cross-traffic alert, forward collison warning, and automatic emergency braking when a crash is imminent. An array of cameras and sonar detectors gives the Maxima Platinum 360-degree exterior monitoring with moving-object detection. If a Platinum driver appears to be neglecting steering responsibilities due to drowsiness, a dash alert lights up that includes a "Take a Break?" query. Maxima has a clearly defined role: Wave the Nissan flag vigorously to prove there's a lot more to life.
The Nissan Maxima's Interior
The Maxima's bonus is an interior that's beautifully detailed, lavishly finished, and sensibly configured. Instead of options, there is a staircase of five different trim levels. Heated leather seats are standard in the SV, the first step up from the base S model. The next-level-up SL version adds a two-panel panoramic roof and a Bose sound system equipped with noise-cancellation technology. The sporty SR has column-mounted paddle shifters and 19-inch wheels and tires (all-seasons are standard, summers are available). The Maxima Platinum, which starts at $40,685, is distinguished with quilted leather seat stitching and a power-adjustable steering wheel. You get steel0look metal trim with the first three levels, what Nissan calls liquid chrome in the SR, and mahogany accents in the Platinum edition.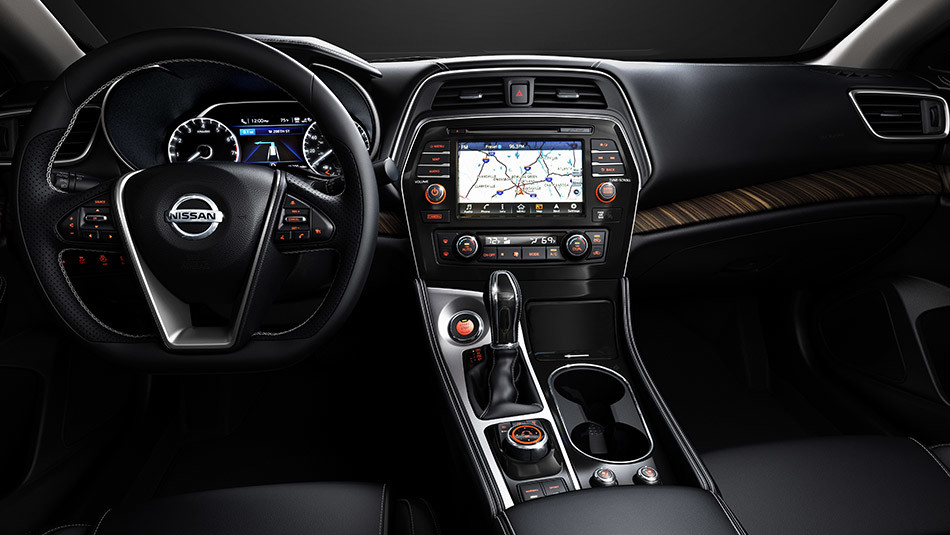 Inspired by the layout of a modern fighter jet, Maxima surrounds you in its luxurious, yet functional cockpit. A deeply bolstered sport seat helps keep you in place, the tall, angled center stack envelopes you and delivers all necessary information clearly and concisely, and every button, switch, and dial is exactly where you need it. The center's storage bin's lid is high and softly finished to serve as a convenient elbow rest. Beautifully stitched seams, a flat-bottom steering wheel, remote starting, navigation, and split-folding rear seat backs are all standard, even at the bottom of the pecking order. The number of switches needed to operate the navigation system has been cut from 25 to 10, and swipe, pinch, and slide touch responses have been added. Driving directions, for example, can be slid from the center display to the 7.0-inch screen centered in front of the driver between the analog tach and speedometer.
Schedule Test Drive
If you like a new or used vehicle shown on our site and would like to see how it handles, schedule a test drive below. One of our salespeople will contact you shortly to confirm the time and date.
Internet Sales Department Hours
815-741-5353
| | |
| --- | --- |
| Monday | 7:00 am - 8:00 pm |
| Tuesday | 7:00 am - 8:00 pm |
| Wednesday | 7:00 am - 8:00 pm |
| Thursday | 7:00 am - 8:00 pm |
| Friday | 7:00 am - 8:00 pm |
| Saturday | 7:00 am - 5:00 pm |
| Sunday | Closed |
Sales Hours
(815) 741-5353
| | |
| --- | --- |
| Monday | 9:00 am - 8:00 pm |
| Tuesday | 9:00 am - 8:00 pm |
| Wednesday | 9:00 am - 8:00 pm |
| Thursday | 9:00 am - 8:00 pm |
| Friday | 9:00 am - 8:00 pm |
| Saturday | 9:00 am - 6:00 pm |
| Sunday | Closed |
Service Hours
(815) 741-5353
| | |
| --- | --- |
| Monday | 7:00 am - 6:00 pm |
| Tuesday | 7:00 am - 6:00 pm |
| Wednesday | 7:00 am - 6:00 pm |
| Thursday | 7:00 am - 6:00 pm |
| Friday | 7:00 am - 5:00 pm |
| Saturday | 7:00 am - 3:00 pm |
| Sunday | Closed |
Parts Hours
(815) 741-5353
| | |
| --- | --- |
| Monday | 7:00 am - 6:00 pm |
| Tuesday | 7:00 am - 6:00 pm |
| Wednesday | 7:00 am - 6:00 pm |
| Thursday | 7:00 am - 6:00 pm |
| Friday | 7:00 am - 5:00 pm |
| Saturday | 7:00 am - 3:00 pm |
| Sunday | Closed |
Finance Hours
| | |
| --- | --- |
| Monday | 9:00 am - 8:00 pm |
| Tuesday | 9:00 am - 8:00 pm |
| Wednesday | 9:00 am - 8:00 pm |
| Thursday | 9:00 am - 8:00 pm |
| Friday | 9:00 am - 8:00 pm |
| Saturday | 9:00 am - 6:00 pm |
| Sunday | Closed |
Office Staff Hours
815-741-5353
| | |
| --- | --- |
| Monday | 7:00 am - 8:00 pm |
| Tuesday | 7:00 am - 8:00 pm |
| Wednesday | 7:00 am - 8:00 pm |
| Thursday | 7:00 am - 8:00 pm |
| Friday | 7:00 am - 8:00 pm |
| Saturday | 7:00 am - 6:00 pm |
| Sunday | Closed |
Managers Hours
| | |
| --- | --- |
| Monday | 9:00 am - 8:00 pm |
| Tuesday | 9:00 am - 8:00 pm |
| Wednesday | 9:00 am - 8:00 pm |
| Thursday | 9:00 am - 8:00 pm |
| Friday | 9:00 am - 8:00 pm |
| Saturday | 9:00 am - 6:00 pm |
| Sunday | Closed |