2021 Nissan Lineup Taps Into the Future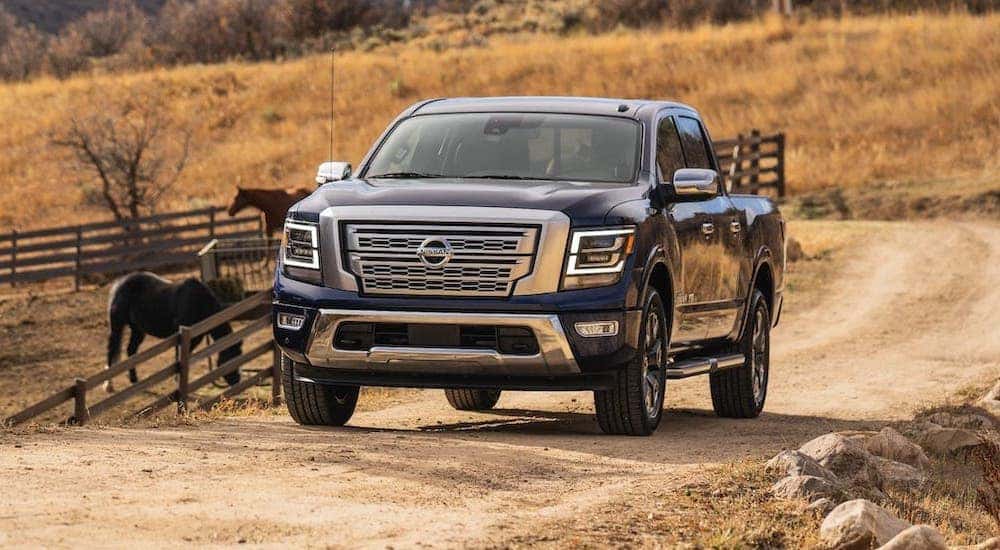 The now-classic film "Back to the Future" shows flying cars as part of the everyday reality of 2015. Unfortunately, technology has not advanced quite as far as anticipated in the 1980s, and driving on terra firma is still very much required. Still, automobile manufacturers haven't abandoned future-thinking technology or ways to make driving fun within the laws of gravity. As 2021 models start to make an appearance at your local Nissan dealer, the first thing you might notice is how different these new vehicles look from the Nissan's of previous generations.
Gone are all of the square, boxy, cube-like design elements. The 2021 Nissan lineup is curvy, aerodynamic, sleek, and modern, designed for more performance than ever before. With major updates to the 2021 Titan, Rogue, and GT-R, perhaps we can wait a bit longer for airborne vehicles. Let's look ahead to the exciting fresh perspective Nissan is putting into the announced 2021 lineup of cars, trucks, and SUVs.
The 2021 Nissan Titan
Fans of Nissan's massive Titan pickup have been waiting a significant amount of time for the hotly anticipated Titan Warrior. While Nissan still hasn't publicly made mention of the "W" word, the latest press statements do promise more power, more safety, and more technology for 2021. Each trim now features its own unique exterior and interior styling. Drivers will have a choice of King Cab or Crew Cab for each Titan trim, with some trims being offered in both 4×2 and 4×4 drivetrains. The Titan XD, known as the Titan's "beefier" big sibling, will be offered in Crew Cab and 4×4 configurations only, with five choices of trim: S, SV, PRO-4X, SL, and Platinum Reserve.
Each Titan will include Nissan's Safety Shield 360 as part of its standard offerings. This suite of safety features includes six different driver assistance tools. Automatic emergency braking provides both a warning and applies the brakes to avoid a forward-moving collision. The class-exclusive rear automatic braking feature offers the same assistance behind the vehicle, with an accompanying rear cross-traffic alert. Blind-spot monitoring alerts drivers to vehicles looming in their blind spot, while lane departure warning helps keep you in your lane.
The 2021 Titan also includes high beam assist, trailer sway assist, blind-spot monitoring, and lane departure warning. The class-exclusive Nissan Concierge service will also be available to Titan drivers in 2021. At the push of a button, this service connects drivers with live assistants who can help in a variety of tasks, from scheduling wake up calls and appointments to taking care of special evening shopping needs, such as arranging for tickets to an upcoming event.
While the public awaits even further details about the 2021 Nissan Titan, it is abundantly clear that this isn't going to be your standard pick up. Instead, the Titan promises to be a vehicle that transcends the basic duties of hauling and towing- though it will still be highly capable in those areas as well.
The 2021 Nissan Rogue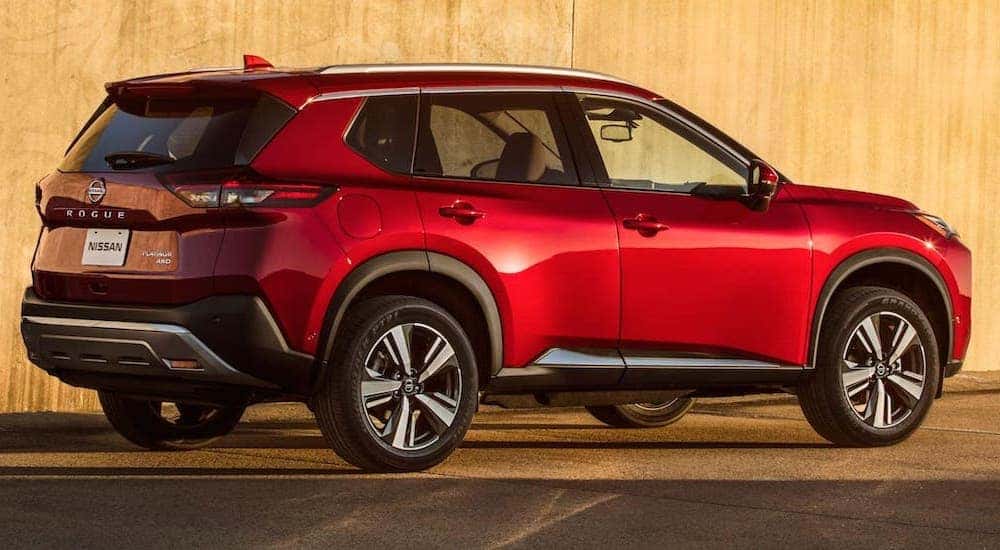 As the SUV continues to reign supreme on the American market, the 2021 Rogue is set to inject a healthy dose of new excitement into the small crossover SUV segment. The 2020 Rogue included few major updates, which led experts to believe that a major redesign was around the corner. In fact, Nissan referred to the 2021 model as "one of the most comprehensive model redesigns in Nissan history." Recent Nissan press has promised "dozens" of new Nissan technologies will be available to 2021 Rogue drivers, lending an extra sense of anticipation to an already expectant crowd.
The first major change is a new trim level, with the Platinum grade joining the existing S, SV, and SL models. The Platinum model will include quilted leather seating, heated front, and rear seats, an extra-visible 12.3-inch Digital Dashboard display, a head-up display, and a premium Bose audio system. It will also enjoy access to new levels of available technology, including Nissan Door-to-Door Navigation.
Much like the 2021 Titan, Rogue will include standard Safety Shield 360 driver assistance technology, along with an enhanced optional ProPILOT assistance system. Limited to just a few Nissan models, ProPILOT was introduced in 2018 and continues to be fine-tuned as technology develops. This system takes adaptive cruise control the next level, even incorporating navigation map data to improve its performance. While intuitive in design, ProPILOT can be manually activated and deactivated by the driver.
Under the hood, Nissan has fitted the 2021 Rogue with a 2.5L 4-cylinder direct-injection engine, which is paired with an Xtronic transmission. This engine will provide 181 hp and 181 lb-ft of torque. The Rogue will also continue to be offered with both front-wheel drive and Nissan's intelligent all-wheel drive system.
The 2021 GT-R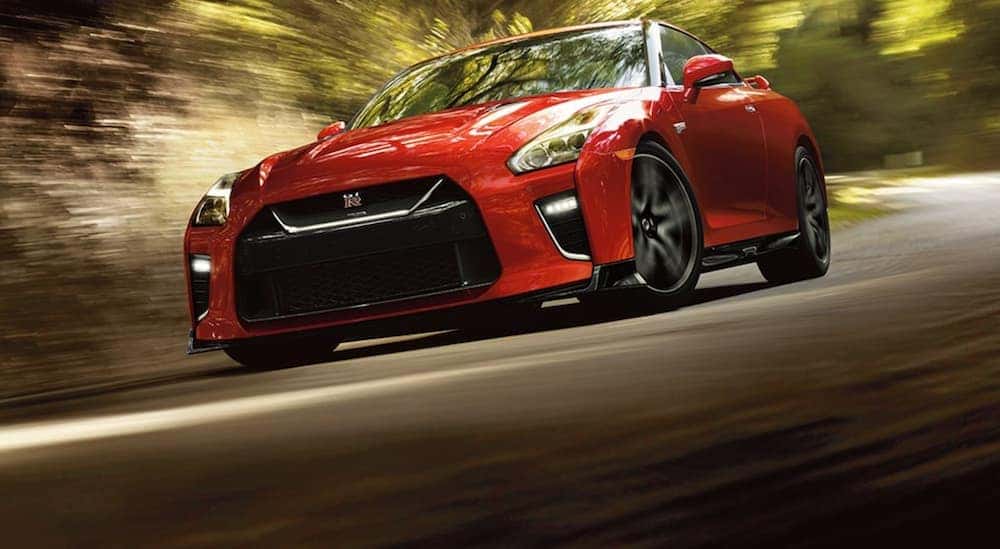 The Nissan GT-R may be the furthest thing from a small crossover family SUV, but drivers with a need for speed are eagerly awaiting the release of the latest iteration of this classic. The GT-R Premium is already a lot of car with its twin-turbo 3.8L V6 engine producing 565 hp and 467 lb-ft of torque. However, the GT-R NISMO takes this stellar performance to the next level with a handcrafted engine and exclusive turbocharger design that combine to produce a full 600 hp and 481 lb-ft of torque. Throw in a ton of carbon fiber components, and you have a rear performance monster.
But speed isn't the only consideration for this dynamic vehicle. All GT-R models are also equipped with all-wheel drive handling, which not only improves handling on the track but means that drivers won't have to put their baby away when the weather is wet or cold. Leather sport seating for four makes GT-R one of the few multi-passenger sports cars, while available features such as NissanConnect Services, Door-to-Door Navigation, and a premium sound system means that you can transport your family in comfort when you aren't pushing the limit on the track.
Drivers won't be left wanting more from the NISMO, either, as every possible base seems to be covered by Nissan's innovative design. Inside are ergonomically designed Recaro seats clad in leather and red synthetic suede, which both recline and are heated. When you start pulling Gs in your NISMO, you won't find yourself thrown around the cabin. The rest of the interior continues the red-and-leather theme through the steering wheel, shift knob, and control panel, which features customizable screens to help drivers get a sense of engine performance, acceleration, efficiency, chassis, and even lap time.
With its performance and features, the 2021 Nissan GT-R may be the closest thing we have to a flying car, though it's best operated with all four tires on the ground. Still, if the thrill of speed excites you, 2021 may be the best opportunity yet to sit behind the wheel of the GT-R and let it all out. If you want to try out this futuristic car for yourself, then drop by our Joliet dealership for a test drive.
Nissan continues to release additional information regarding the 2021 lineup, and we expect these vehicles to start arriving here at Thomas Nissan through the remainder of 2020. Though a garbage-guzzling flying sports car is not amongst the offerings, drivers can still choose from a mighty beast of a truck, a fully redesigned family-friendly crossover, or a super sports car that isn't afraid of action. With more safety and convenience technology than ever, Nissan brings drivers into the 21st century with features that were never imagined back in the 1980s, from alerts and warnings that keep us on the road to the ability to make a date without putting the vehicle in park. Is it as convenient as being airborne? No, but it's incredibly helpful in making the journey more enjoyable.