5 Affordable New Nissan Models You'll Want To Test Drive Soon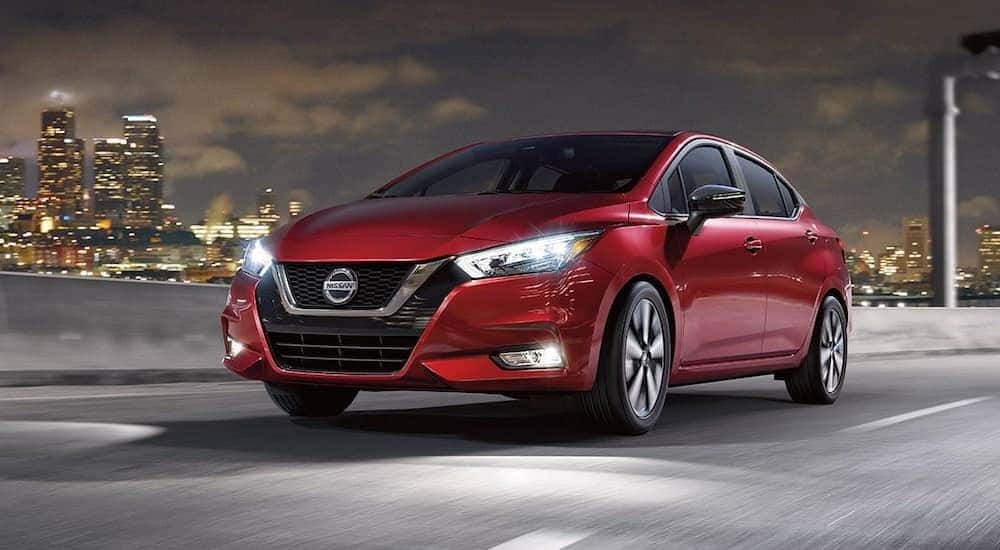 If you're looking for a new vehicle, all the options of Joliet car dealerships may overwhelm you at first. There's so much variety, so how can you know who to trust? This is where Thomas Nissan comes in. Here, we offer any type of vehicle you can think of, from cars and SUVs to trucks, vans, and hatchbacks. We even have hybrid options if that's more your style. Plus, we offer plenty of affordable Nissan models for those who are looking to make the most out of their budgets. There's an affordable vehicle option for every type of Nissan lover, but here are just five examples of some of our favorite affordable Nissan vehicles.
Sedan: The Nissan Versa
Let's look at the 2021 Nissan Versa SV. This model also gets up to 40 miles per gallon, roughly 90 cubic feet of passenger space, and a slightly larger trunk with up to 14.7 cubic feet. This model has better safety options, with a rearview back-up camera, blind spot warning, lane departure warning, and automatic braking. It also comes in eight colors, including Scarlet Ember, Monarch Orange, Electric Blue, Super Black, Gun Metallic, Brilliant Silver, Aspen White, and Fresh Powder. The 2021 Versa starts out at only $14,930, with better driver assist features and a bit more horsepower than its previous models. It also offers standard pedestrian detection and braking, which makes it an excellent vehicle for younger drivers and those who prefer extra security.
You can also get intelligent driver alertness with the 2021 Versa, which is a new technology that monitors how well you're paying attention. If it senses that you're drifting off, this feature will alert you and encourage you to pull over. Speaking of fun technologies, it also includes Apple CarPlay and Android Auto integration, Bluetooth audio connection, and NissanConnect. Remote engine start is also available, so if you live in very cold or hot areas, you'll never have to get into an uncomfortable vehicle again.
The Nissan Versa is a great reason to stop by Thomas Nissan. We recommend the Versa for those who have long commutes or out of town business trips. Its mileage outperforms most in its class, and it's spacious despite its compact size.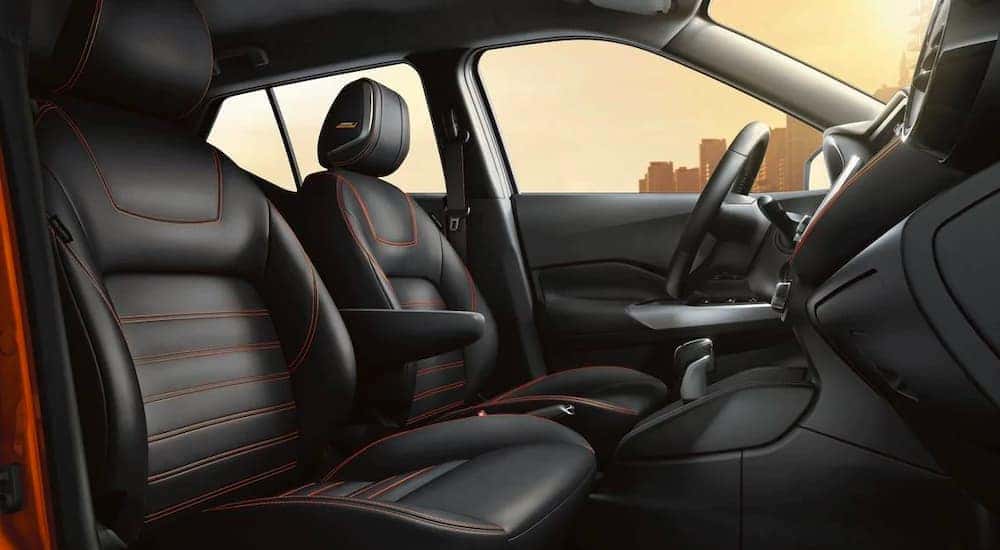 Crossover: The Nissan Kicks
Typically, when you think of Nissan SUVs, you probably picture the Rogue. However, the Kicks is a great and affordable option that is often overlooked, and we want to change that. The Kicks offers much more space than a car, with the same gas mileage as most midsize cars, which is definitely a reason to consider it. It gets up to 36 miles per gallon and 93.9 cubic feet of passenger space, but it offers up to 32.3 cubic feet with the seats down.
The Kicks comes with lane departure warning, blind spot warning, emergency braking, and rear parking sensors, creating a safer driving experience. It also comes with several convenience features like remote keyless entry and Bluetooth wireless phone connectivity. Additionally, the 2020 model is available in up to 12 colors, including Deep Blue Pearl, Monarch Orange Metallic, Cayenne Red Metallic, and many more. If you're looking for a crossover that's more affordable than the Rogue, the 2021 Kicks is a good option. You can purchase this model for as little as $19,070.
Truck: The Nissan Frontier
While the Nissan Titan is more widely known, the Frontier is a smaller, more affordable option. It offers up to 310 horsepower, 92 cubic feet of passenger space, and towing capacities of up to 6,720 pounds. The 2020 Frontier is still powerful enough to accommodate all your basic truck needs. It includes a back-up camera and rear parking sensors, and it has remote keyless entry and heated front bucket seats. The 2020 Frontier comes in six different colors, including Arctic Blue and Cayenne Red. This model is available for a starting price of $26,790. If you are in the market for a mid-size truck model, the Frontier is the perfect fit.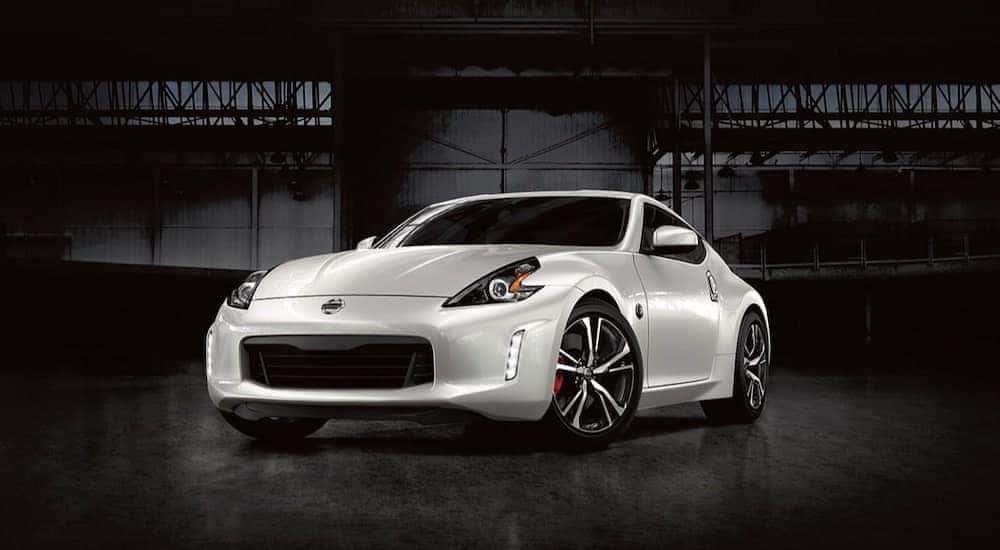 Sports Car: The Nissan 370Z
It's difficult to imagine a sports car being labeled as "affordable," but the Nissan 370Z makes it possible. The 2020 model's price starts around $30,090, and with up to 350 horsepower, that's difficult to beat. Not only does this vehicle have power, but it's also incredibly nice to look at. It comes in two different 50th Anniversary styles, which include Silver/Black or White/Red exterior paint and decal options. Further, its regular trims include eight different color options, such as Deep Pearl Blue and Passion Red TriCoat. You can add graphics kits and different spoiler and wheel options, too. The 370Z comes with everything from illuminated kick plates to splash guard add-ons to protect from mud while sporting up the look even more. This sleek and stylish sports car is sure to make your friends jealous as you roar past them on the road.
Electric: The Nissan LEAF
Finally, we've got an electric vehicle to show you: the 2020 Nissan LEAF. Depending on which battery you have, you can actually get up to 226 miles on a single charge. This spunky little electric compact will give you up to 214 horsepower and 250 lb-ft of torque. You will also find up to 30 cubic feet of cargo volume and 92.4 cubic feet of passenger volume in this 5 seat compact car.
Let's not forget the biggest appeal of an electric vehicle: the fuel economy. With the smaller 110 kW AC motor, you'll see 123 MPGe in the city and 99 MPGe on the highway. That is a pretty impressive gas mileage equivalent range. If you opt for the more powerful 160 kW AC motor, the fuel economy does drop to 114 MPGe city and 94 MPGe highway.
On top of this, the Leaf's driver assistance features are plentiful. The Leaf includes a one-pedal driving option that allows you to accelerate and then simply let off the pedal for automatic stopping. It also comes with intelligent driver alertness, active ride control, intelligent cruise control, and much more. This model is available for as little as $31,620. If you like to save money on fuel, and you're into eco-friendliness, this electric compact car is for you.
Why Choose Thomas Nissan?
Here at Thomas Nissan of Joliet, we are your one-stop-shop for all your automotive needs. While there are several Joliet car dealerships, we take pride in offering our very own service center and collision shop. Not only do we take care of your maintenance needs, but we can offer repairs for exterior body damage too. This is all in addition to our vast inventory of new and used Nissan vehicles.
We make shopping for an affordable Nissan easy. Check out our pre-owned stock for some of the best offers on used vehicles, or peruse some of the more affordable new options we have on the lot. Our sales team will work diligently to find a vehicle that will fit within your budget and lifestyle. Before visiting other Joliet car dealerships, give us a call or stop by our dealership. We are confident we will be able to help you find the perfect Nissan.