All-Wheel Drive and Advanced Safety in the Dynamic Nissan Altima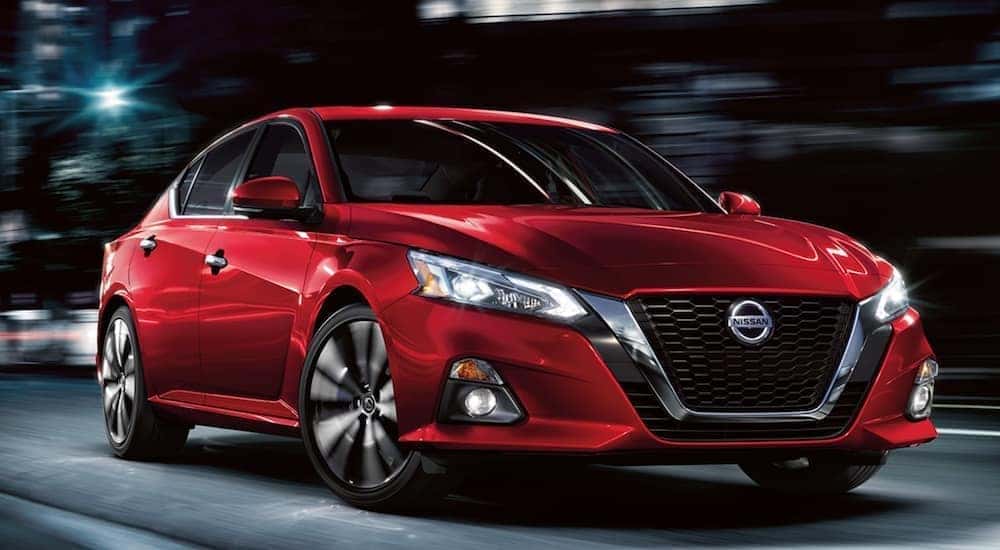 It is time to visit your local Nissan Altima dealer. The dynamic 2021 Altima is here – a midsize sedan that reinvigorates a segment slowly being chipped away by America's obsession with crossovers. If you're not one of those drivers who's smitten with the SUV body style, you'll love the agility, performance, and sleek styling that only a sedan like the Altima can offer. It's affordable, stylish, and extremely fun to drive.
With the 2021 Altima, Nissan offers an elegant yet affordably priced vehicle that's long on standard features. It's available in six different and distinct trims, and with a starting MSRP of under $25,000, the Altima is affordable, too. That affordability extends to the ownership experience also: the Altima delivers fuel economy ratings of up to 28 MPG city and 39 MPG highway. But practicality is only the beginning of the story.
Perhaps the best available feature on the 2021 Nissan Altima is its intelligent all-wheel drive. Buyers in four-season climates will appreciate the security of having extra traction during wet, slippery driving conditions. Safety doesn't stop there, though. The Altima also comes with Nissan Safety Shield 360, a suite of advanced driver-assist safety systems that work together to keep its occupants out of harm's way. Drive with confidence knowing this system is on high alert for changing road conditions.
Crossovers may continue grabbing splashy headlines, but the sedan category remains consistently popular among a segment of buyers that don't want or need a boxy, oversized vehicle. Instead, they choose the comfortable ride, responsive handling, and unmatched nimbleness of a classic sedan. If you're a buyer that values agility over bulk, we recommend taking the Altima for a test drive. With six trims to choose from, including the exhilarating SR VC-Turbo, there's an Altima for nearly every budget and lifestyle.
The Most Affordable Altima Trims
One of our favorite attributes of the 2021 Nissan Altima is its affordable starting price tag and the fact that even the base trim is well-equipped. At the top end of the trim range, the sporty Altima SR VC-Turbo and the luxurious Platinum trim don't stray too far over the $30,000 range either, so buyers wanting extra features are still going to drive home with a low monthly payment. Practicality: check.
The Altima S is the only Altima trim not offered with optional all-wheel drive, but it does come standard with a powerful 2.5-liter DOHC 16-valve 4-cylinder engine that makes 188 horsepower. The engine is paired with an Xtronic continuously variable transmission, designed to provide better fuel economy and a smoother ride. The Altima S sits on 16-inch tires and includes a 7-inch infotainment touchscreen, making it the perfect choice for buyers looking to get the most vehicle on a tight budget.
If all-wheel drive is a feature you want, but you're mindful of price creep, check out the Altima SV. This trim is equipped with everything you'll find on the base S, and you can choose from front-wheel or all-wheel drive. The SV also features LED headlights, LED daytime running lights, and larger 17-inch wheels, a nice upgrade from the base model without a significant price bump.
Between the base S and the mid-range SV, Nissan offers budget-minded buyers choices that don't skimp on standard features. With the SV, it's possible to stay on the low end of the price spectrum and still equip your Altima with all-wheel drive. Tech-savvy buyers will also love the SV's upgraded 8-inch touchscreen with standard Apple CarPlay and Android Auto connectivity and a free three-month trial of SiriusXM satellite radio.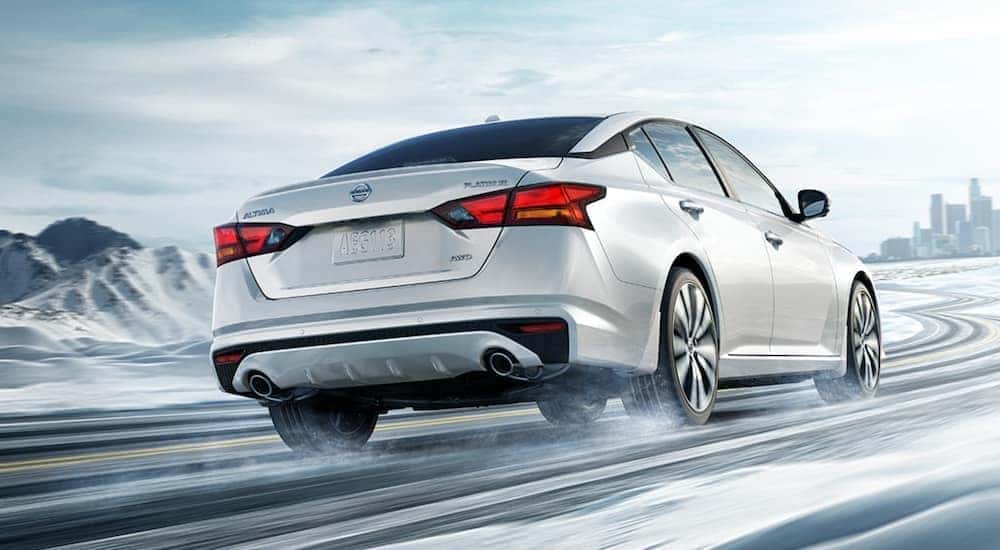 Premium Altima Trims
On the sportier end of the trim range, the Altima SR adds a special sport-tuned suspension and dual chrome exhaust. Its 19-inch wheels give the SR a more aggressive curb profile, along with special black side mirrors and a dark V-Motion grille. Inside the cabin, steering wheel paddle shifters have a manual shift mode for greater control when driving. Add the available Premium Package, and you'll get heated outside mirrors, a sunroof, and heated front seats.
If affordable luxury is your preference, you'll want to discover the Altima SL. Standard leather seating, a premium nine-speaker Bose audio system, and built-in navigation highlight the premium features you'll find on the SL. Also standard are LED fog lights and a remote start feature that includes climate control, so the cabin is at the desired temperature the moment you get inside.
The exhilarating SR VC-Turbo puts the spotlight on responsive handling and performance, taking the SR trim and adding a larger and more powerful 2.0-liter VC-Turbo engine that makes 248 horsepower. In addition, this trim includes a power sliding glass moonroof, heated front seats, and Nissan's active noise cancellation – a feature that minimizes road noise for a quieter in-cabin environment. The SR VC-Turbo is only available in front-wheel drive.
The Altima Platinum is all about next-level luxury. It's full of the kind of equipment you'd expect to find on a much more expensive European import but has a surprisingly affordable price tag. Building on the SL, the Platinum adds wood-tone accents and interior accent lighting that lend the cabin an upscale appearance. An auto-dimming rearview mirror with a programmable HomeLink function is also included. Finally, the Platinum comes standard with all-wheel drive; front-wheel drive is not available.
The Altima Keeps You Safe
The big buzzword in automotive engineering is semi-autonomous driving technology. Today, software plays almost as big a role in manufacturing as the visible sheet metal and the hardware that make up the vehicle itself. Nissan's system, called ProPILOT Assist, is standard across the entire Altima trim range. ProPILOT Assist uses a camera, radar, and sensors to keep your car centered in its lane and traveling a safe distance behind the vehicle ahead of you when the cruise control system is engaged.
Nissan also offers a suite of driver-assist technologies on all Altima trims. Known as Safety Shield 360, these systems monitor in front, behind, and around the vehicle, alerting the driver to any potential hazards or impending collisions. Some systems can even mitigate accidents and provide emergency braking to minimize the severity of an imminent crash.
Other standard driver-assist features include forward collision warning, automatic emergency braking with pedestrian detection, lane departure warning, and intelligent lane intervention. Intelligent Driver Alertness monitors steering patterns and can sense when you're getting fatigued. The system will chime and suggest that you pull over and rest, minimizing the potential for tired drivers to lose concentration.
Additional systems available on every trim include blind spot warning, rear cross traffic alert, and rear automatic braking. Enhanced systems, available on the upper level trims only, include Traffic Sign Recognition, a system that reads speed limit signs and notifies the driver when there's a change. An intelligent all around view monitor is also offered, although all Altimas come standard with a rearview camera.
The Altima boasts a five-star overall safety rating from the National Highway Traffic Safety Administration (NHTSA) and was named a Top Safety Pick+ by the Insurance Institute for Highway Safety (IIHS), making it a great choice for families. The 15.4 cubic feet of trunk space is ample room for road trip luggage or sports gear, and the Altima's back seats boast a comfortable 35.2 inches of legroom.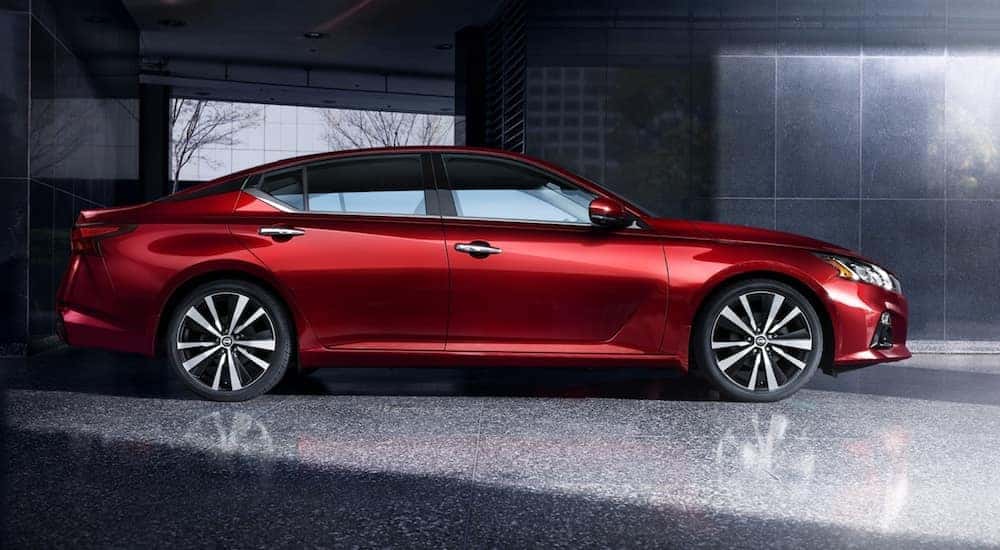 Nissan's Midsize Masterpiece
Sandwiched between the smaller Sentra and the full-size Maxima, the 2021 Nissan Altima is a just-right sedan that stands out in its segment for features like available all-wheel drive. The Altima makes a statement within the sedan category because it challenges the notion that all sedans are designed purely for practicality. With options like the SR VC-Turbo, the Altima delivers surprisingly high performance without an exorbitant price tag.
A range of trim choices, plus the one-two punch of connected technology and driver-assist safety features, make the 2021 Nissan Altima far more than just a sensible decision. It's a sleek, modern sports sedan that earns high praise from automotive journalists. Crossover-weary buyers rejoice! Whether you're seeking luxury, performance, or something in-between, you'll find it in the Nissan Altima.