Chicagoland: The Top 8 Nissan Models to Buy in Chicago for 2021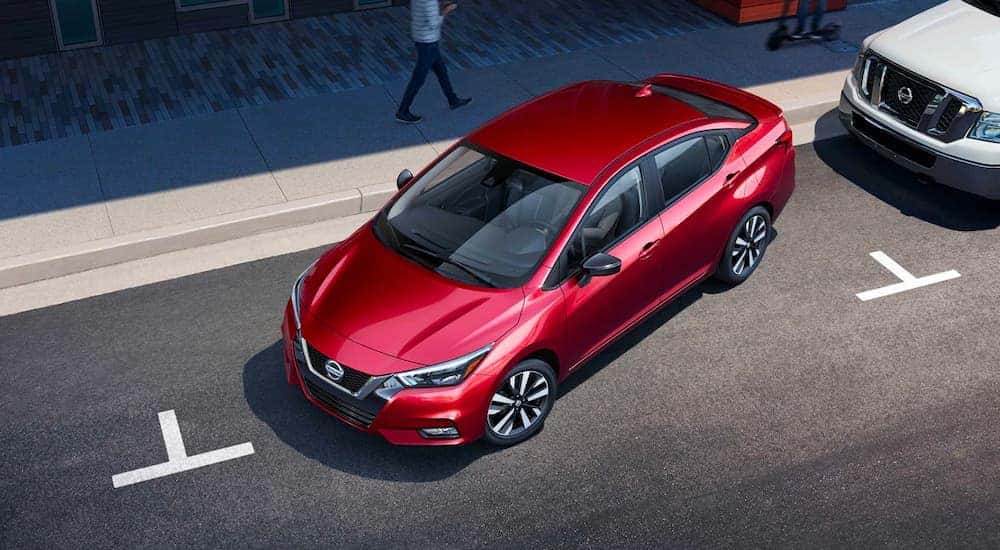 Chicago is a big city that can often compare to cities like New York and Los Angeles. As well as being a city with a rich history that attracts many tourists to the United States, Chicago is home to many beautiful sites that can only be seen on the Lake Michigan coast. Nonetheless, while Chicago may have many differences, there is one thing that the city has in common with every other city in the United States: traffic. As such, buying the best car available is an absolute must for anybody planning to stay in Illinois for any period of time, and Nissan is the company that has the best selection of vehicles for the Chicago-area. So, if you're looking to stay in Chicago, visiting a Chicagoland Nissan Dealer may just be the best decision you can make.
Chicago: What's It Like?
Chicago may be a big city, but in reality, Chicago isn't like any other big city in the United States. Between the weather from the Great Lakes, the wind blowing constantly, and the diverse mix of different people, Chicago feels like walking through world cities like New York and Los Angeles, yet still manages to sell you on that middle of the country feel. Truly, there is no other place like it in the United States. However, this also means that Chicago drivers have a unique set of issues that they need to deal with differently than other cities in the country.
From slippery weather conditions in the winter and spring to traffic that calls for higher mobility, driving in Chicago is a completely different experience than what most people are used to. Fear not, for Nissan has a large inventory of different models built for every different case scenario. Here are the top 8 Nissan models in the 2021 lineup for Chicago drivers.
#1 Pathfinder
Alright, we're not going to hide it; the 2020 Nissan Pathfinder is a good SUV for a very specific set of Chicago residents. That isn't to say that the SUV isn't a good city car, it wouldn't have made it to this list if it wasn't, but it definitely is meant for people that like the Chicagoland area rather than the downtown itself. Of course, there is definitely more to Chicago than the city: the Great Lakes Area is filled with amazing views, state parks, and federal lands galore like the Midewin National Tallgrass Prairie. If you're the kind of person that enjoys traveling great distances, then the 2020 Nissan Pathfinder is the kind of SUV for you. It offers 284 horsepower to power through most terrain conditions, a 6,000 lbs towing capacity for taking your boat to the lake, and generally good city performance for those days that you really will need to be in the city.
#2 Rogue & Rogue Sport
The Nissan Rogue is a reasonably sized SUV, which can be somewhat off-putting for a big city like Chicago – but there are actually quite a few benefits to owning a 2020 Nissan Rogue as a Chicago resident. These include 26 MPG fuel economy in the city, some of the best safety technology in its class, and all the comfort associated with a crossover SUV. That said, if you do want something a little smaller for squeezing through city streets and narrow parking places, then the similarly-named but more compact 2020 Nissan Rogue Sport is also a great crossover SUV option.
#3 37OZ
If you want a fast car, then the 2020 Nissan 37OZ is a coupe that may be to your taste. With its sporty design and V6 engine, it is a much faster drive than the other cars on this list. After all, there are benefits to having a fast, very maneuverable car in the city. Although nothing is going to make traffic go away, the 2020 Nissan 37OZ is going to make short work of it with an outstanding 350 hp and incredible agility to get between those two cars on the highway. Of course, there are some downsides; the Nissan 37OZ is not as efficient, with 19 MPG fuel economy in the city.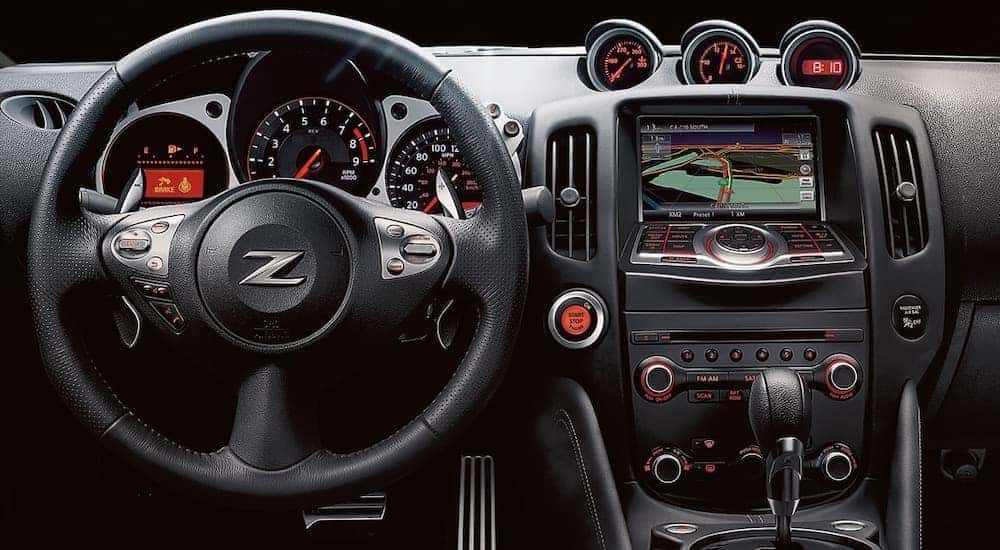 #4 Altima
The 2021 Nissan Altima is a very good car, easily able to drive in the kind of environment that Chicago creates. This is because of the car's moderate size, its innovative use of advanced safety technology like Intelligent All-Wheel Drive, and seating and cargo space that heavily enhances comfort. That said, price does play a factor. The 2021 Nissan Altima is a midsize car, and you will be paying extra for its comfort and performance over something small like the 2020 Nissan Sentra. This means the Altima is generally a better choice if you spend a lot of time in your car, especially on the highway where that added performance comes in handy.
#5 Kicks
A crossover is something of a miracle for the truck lover who's moved to the big city. Obviously, trucks are not the greatest choice for places like Chicago – they're big and less mobile than, say, a sedan, which makes heavy traffic and tighter turns more difficult. This is what makes SUVs and crossovers like the 2020 Nissan Kicks so amazing; they're the perfect blend of a bigger vehicle that can maneuver like a small car. Of course, there are other reasons why the Nissan Kicks is so great for Chicago: it gets 31 MPG in the city, which is a tremendous fuel economy, and it's suited up with the best safety technology, like automatic braking for quick stops and lane departure warning for those long days on the road. This is why it is one of the best Chicago crossovers.
#6 LEAF
The 2020 Nissan LEAF has had an amazing run and is the front runner of Nissan's initiatives in sustainable technology. Yes, the Nissan LEAF is an all-electric battery-powered crossover, making it incredibly efficient with a range of up to 226 miles on a single charge. Not only does this car show that you're a smart driver, but the vehicle offers a completely different take on safety technology. All driver assistance technology is a system that helps you make smarter traffic decisions in the moment, which is largely something we haven't seen in the automotive industry to date. Obviously, it goes without saying that this is a vehicle literally built for the kind of traffic environment that Chicagoland has to offer.
#7 Sentra
The 2020 Nissan Sentra was a long-awaited compact sedan with a lot of promise as far as performance and safety. And largely, the 2020 Nissan Sentra fulfilled this promise very, very well with some large improvements in safety technology. Even more valuable was its redesign in terms of performance and handling: with a redesigned suspension installed to make the drive of the Sentra smoother and easier to control, as well as large increases in horsepower and fuel mileage. All in all, the 2020 Nissan Sentra is a good, well-rounded sedan for Chicago streets, versatile and mobile enough to handle the rapidly changing traffic conditions.
#8 Versa
Honestly, rating the 2020 Nissan Versa and the 2020 Nissan Sentra was very hard. These two cars are incredibly accomplished, in a way that would make any city driver happy, with amazing performance, great overall comfort for a small car, and advanced safety measures. Nissan really outdid themselves in making these two models, but there are two places that the two differed: horsepower and fuel mileage.
Even in these categories, the competition was close: the 2020 Nissan Sentra had the advantage at first in horsepower, beating the 2020 Nissan Versa with 149 hp to 122 hp. However, the 2020 Nissan Versa pulled through with 32 MPG in city fuel economy to 29 MPG in city driving for the Sentra. Normally, this would call for a draw. However, the Sentra does offer more luxury features and more space for cargo and passengers, and for most drivers, that trumps the lower cost of the subcompact Versa. That said, both cars are highly recommended for the Chicagoland driver.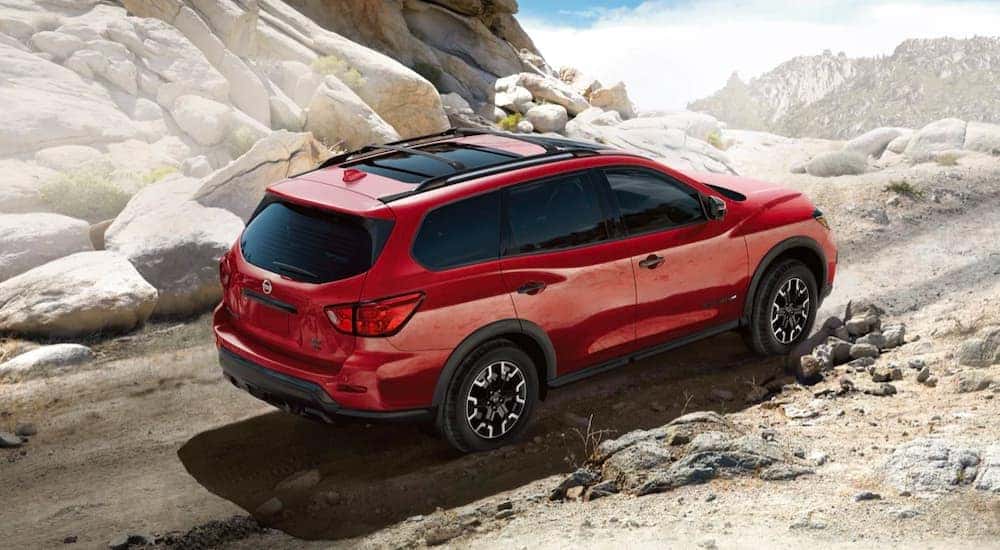 So, Which Should I Buy?
In the end, while this list may seem definitive, buying a vehicle is a very personal process. You may enjoy the off-road experience found in the 2020 Nissan Pathfinder, or you may prefer the luxury experience of the 2021 Nissan Altima. That said, with Nissan's large selection, there's sure to be something that suits your tastes. Hopefully, our list helped you in the right direction, but the team here at Thomas Nissan is ready to provide you with whatever additional information you need. Give us a call or visit us in person to get the best Chicagoland Nissan dealer experience available.