Community News
Thomas Nissan is proud to support the community!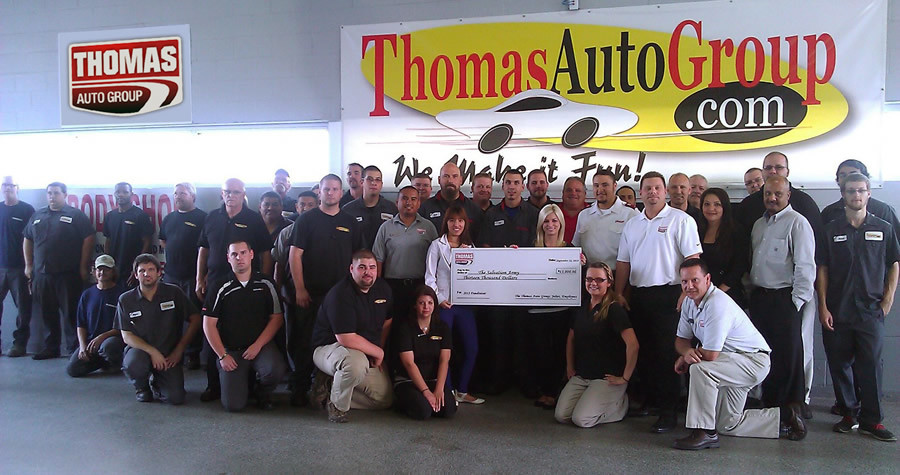 Through the efforts of our entire auto group, we were able to donate $13,000 to the Salvation Army!
United Way of Will County
Thomas Nissan Employees supported the United Way of Will County by contributing $22,818 from employee contributions and matching donations from Thomas Nissan ownership.

Thomas Nissan raised $23,864 for the Will County United Way Fund, the largest single donation in Will County. For the 14th consecutive year, employees at Nissan North America have contributed more than $1 million to support the United Way. Nissan employees who work in the company's plants in Tennessee and Mississippi and in its Nashville headquarters have donated a total of $1.3 million to benefit people served by nonprofit agencies in their local communities.
"Year after year, Nissan employees give generously to the United Way to support people in need," said Mark Sharp, director, Trim & Chassis Engineering, and chair of the campaigns at the Smyrna and Decherd plants.
"At a time when it seems there are so many issues in our society, it's encouraging to see solutions being offered through United Way agencies. I'm glad that we're able to be a part of those solutions."
Joliet Township High School

Last November, Chicagoland Speedway and Joliet Township High School partnered on a community initiative to create and manage a comprehensive fundraising program. The BenchMark Project was designed to develop industry and business skills of JTHS students, while simultaneously raising money for deserving local charities. Over the past seven months, students worked with high school staff and members of Chicagoland Speedway to design, construct and sell benches. The benches are currently on display at Chicagoland Speedway.
Thanks to the generous support of those in the community, JTHS students raised $20,000 for local charities by selling all 20 benches that were constructed through the program. Joliet Central High School selected the G.W. Buck Boys and Girls Club as their beneficiary and presented them with $10,000; while Joliet West divided the funds equally with a $5,000 contribution to the Will County Humane Society and $5,000 to the Make-A-Wish Foundation.
We would like to express our deep gratitude for your generous support of the BenchMark Project. Without your assistance, the project's fundraising and educational goals could not have been achieved. The $20,000 raised will go a long way toward helping worthy causes, and the invaluable knowledge you helped these students gain through the program is equally important for their futures. Opportunities to gain hands-on business experience are rare at such a young age, and the skills honed here will serve as a guide toward future success. This project is truly an example of how a community can come together for the greater good, and we hope to continue the trend in years to come.

We thank you for your support of the BenchMark Project and the students at Joliet Central and Joliet West.

Best Regards from,
Joliet Chamber of Commerce
Chicagoland Speedway &
Route 66 Raceway Joliet Township High School District 204
Sales Hours
(815) 741-5353
| | |
| --- | --- |
| Monday | 9:00 am - 7:00 pm |
| Tuesday | 9:00 am - 7:00 pm |
| Wednesday | 9:00 am - 7:00 pm |
| Thursday | 9:00 am - 7:00 pm |
| Friday | 9:00 am - 7:00 pm |
| Saturday | 9:00 am - 6:00 pm |
| Sunday | Closed |
Service Hours
(815) 741-5353
| | |
| --- | --- |
| Monday | 7:00 am - 5:00 pm |
| Tuesday | 7:00 am - 5:00 pm |
| Wednesday | 7:00 am - 5:00 pm |
| Thursday | 7:00 am - 5:00 pm |
| Friday | 7:00 am - 5:00 pm |
| Saturday | 7:00 am - 1:00 pm |
| Sunday | Closed |
Parts Hours
(815) 741-5353
| | |
| --- | --- |
| Monday | 7:00 am - 5:00 pm |
| Tuesday | 7:00 am - 5:00 pm |
| Wednesday | 7:00 am - 5:00 pm |
| Thursday | 7:00 am - 5:00 pm |
| Friday | 7:00 am - 5:00 pm |
| Saturday | 7:00 am - 1:00 pm |
| Sunday | Closed |