Eight Exceptionally Affordable Nissans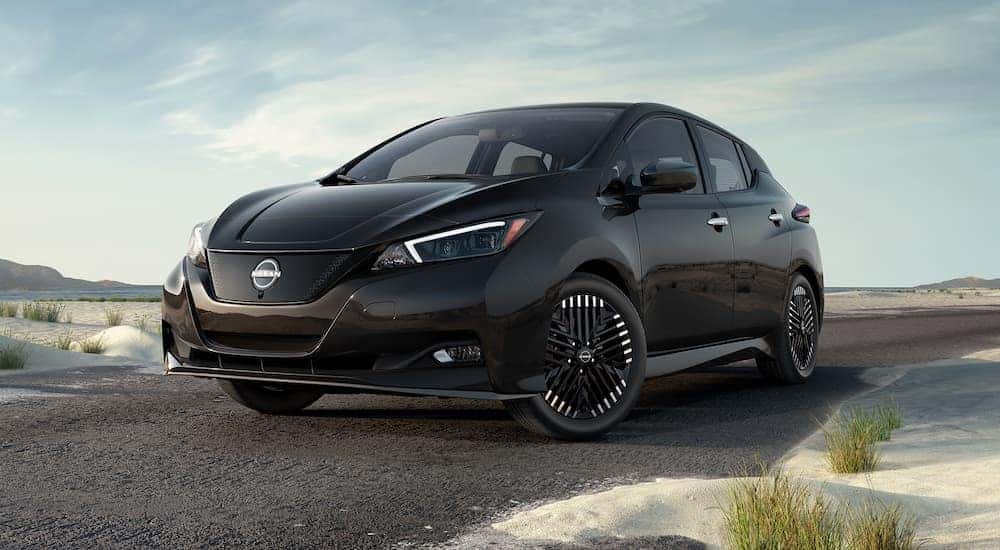 For Minooka residents, the need for a reliable vehicle for their daily commute around the Chicago area is crucial. For those who call this great village home, Thomas Nissan of Joliet has an array of exceptional Nissan vehicles perfect for traveling around Minooka, all at affordable prices and for any type of driver. So, why are Nissans a great brand for this area of Illinois? It's because few automakers can provide quality, safety, and performance in an affordable vehicle like Nissan. Whether you are looking for a sedan, SUV, or pickup truck, only Nissan can deliver the features you want and the capability you need at a price that will fit perfectly into your budget. So, if you're looking for a Minooka Nissan dealer, make Thomas Nissan of Joliet your first and last stop for a great affordable Nissan vehicle. We're located just twenty minutes outside Minooka in, you guessed it, Joliet, IL.
At Thomas Nissan of Joliet, we offer a full lineup of new, used, and Certified Pre-Owned Nissan cars, trucks, and SUVs, so Minooka drivers like you can find the exact model you are looking for. When it comes to affordability, Nissan is clear with its trim levels, with the entry-level model for each vehicle beginning with the S class, giving you the ability to get the model you want at a price that won't break the bank. Each of the 8 Nissan models featured here has a base MSRP below $30,000, making it priced right for drivers in Minooka.
#1. Nissan Versa
The Nissan Versa has the lowest base MSRP of any Nissan currently available, with the 2022 Versa starting at $15,580.[a] This sporty subcompact sedan features an exceptionally efficient 1.6-liter I-4 gas engine with your choice of either a 5-speed manual transmission or a continuously variable transmission (CVT). Whichever one you choose, you are going to get incredible fuel economy at 32 MPG in the city and 40 MPG on the highway in a front-wheel drive Versa, with a notable 122 hp and 144 lb-ft of torque..
Like all Nissan models, the Versa has standard safety features as part of the Nissan Safety Shield 360 suite of driver assistance technologies. The Versa also features the NissanConnect infotainment system on a 7-inch touchscreen display with Android Auto and Apple CarPlay compatibility. The 2022 Versa represents the perfect car for a commuter looking to keep more money in their wallet and fewer stops at the pump.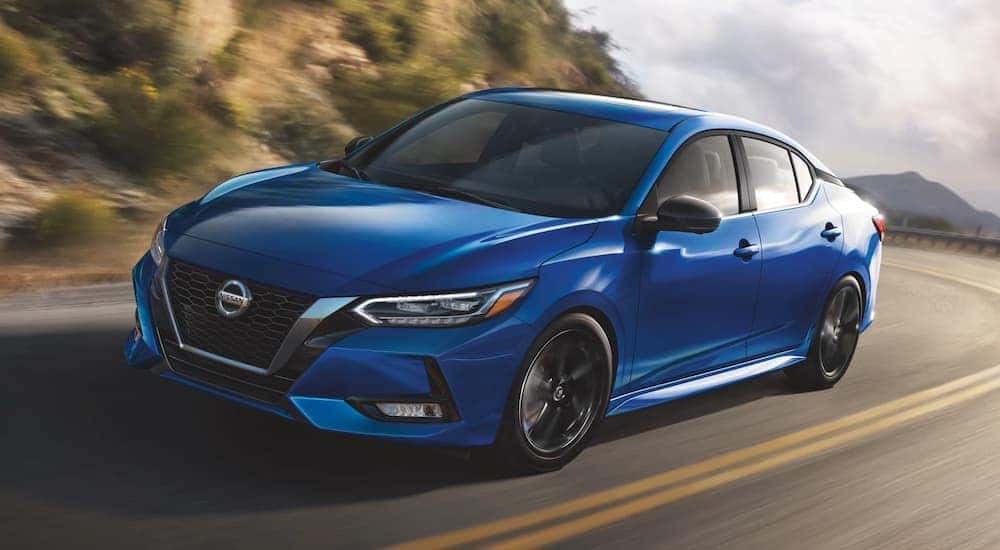 #2. Nissan Sentra
Slightly larger than the Versa but still very affordable with a base MSRP of $19,950, the 2022 Nissan Sentra is a compact sedan that is roomier than it may appear on the outside.[a] This is because the engineers at Nissan have designed the Sentra to maximize interior space, providing great comfort for up to five passengers and plenty of room for your belongings in a trunk with 14.3 cu.ft. of space.
The 2022 Nissan Sentra is equipped with a 2.0-liter I-4 gas engine with a CVT transmission, giving you 149 hp through its direct fuel injection system. This front-wheel drive sedan will also give you fuel economy that will make you the envy of other drivers, with up to 39 MPG on the highway and 29 MPG in the city. This is why the Sentra makes for a great commuter car and is perfect for a young family looking to live on a modest budget while desiring the comfort and safety of a Nissan vehicle.
#3. Nissan Kicks
Some folks get their kicks on Route 66, but knowledgeable drivers in Minooka know that if you want a subcompact SUV, there is nothing like a 2022 Nissan Kicks. This sporty model has a starting MSRP of $20,290, making it perfect for new drivers like students and older drivers looking to scale back but still wanting the power and reliability of an SUV.[a]
The Kicks features a 1.6-liter I-4 gas engine paired with a CVT transmission capable of 122 hp and 114 lb-ft of torque. As a result, the front-wheel drive Kicks can provide up to 31 MPG in the city and 36 MPG on the highway. In addition, the Kicks can fit up to 25.3 cu.ft. of your stuff in its trunk, making it perfect for shopping excursions. Also, Nissan has made the 8-inch touchscreen standard for the NissanConnect system on all models of the 2022 Kicks, so you don't have to pay extra to stay connected.
#4. Nissan Rogue Sport
The Nissan Rogue Sport is a sporty version of Nissan's popular crossover Rogue SUV. The 2022 Rogue Sport features your choice of front-wheel drive for better fuel economy or all-wheel drive for improved traction, which can come in handy for the snowy weather we experience here in Illinois. This model has a base MSRP of $24,960, making it perfect for commuters, young drivers, and people who want a smaller, affordable SUV with solid performance.[a]
The 2022 Rogue Sport is equipped with a 2.0-liter I-4 gas engine combined with a CVT transmission, which delivers an impressive 141 hp and 147 lb-ft of torque. This is why the Nissan Rogue Sport is so much fun to drive and truly earns its name. While Nissan has announced it's discontinuing the Rogue Sport after the 2022 model year, you can still come in to find great models available for this SUV.
#5. Nissan Altima
One of the most affordable, reliable, and safe midsize sedans is the iconic Nissan Altima. This is one of the longest-running models in the Nissan fleet, with the first Altima appearing on roads across America during the 1993 model year. Today, the Altima remains an incredibly safe vehicle for drivers and their four passengers. In fact, the Insurance Institute for Highway Safety (IIHS) named the 2022 Altima a Top Safety Pick+ for its vehicle category.
Just like the Rogue Sport, Nissan offers the 2022 Altima with a choice of front-wheel drive and all-wheel drive. The base model of the 2022 Altima has an MSRP of $24,900 and features a 2.5-liter I-4 gas engine paired with a CVT to improve efficient performance.[a] The Altima will get you up to 39 MPG on the highway and 28 MPG in the city if you choose this engine with the front-wheel option.
The 2022 Nissan Altima is a great choice for a family that wants a luxurious four-door sedan fully equipped with safety and infotainment features. With its very affordable base starting price and Nissan Intelligent Mobility technology, the Altima gives Minooka family drivers the chance to get a car at a great price without compromising on the features they need.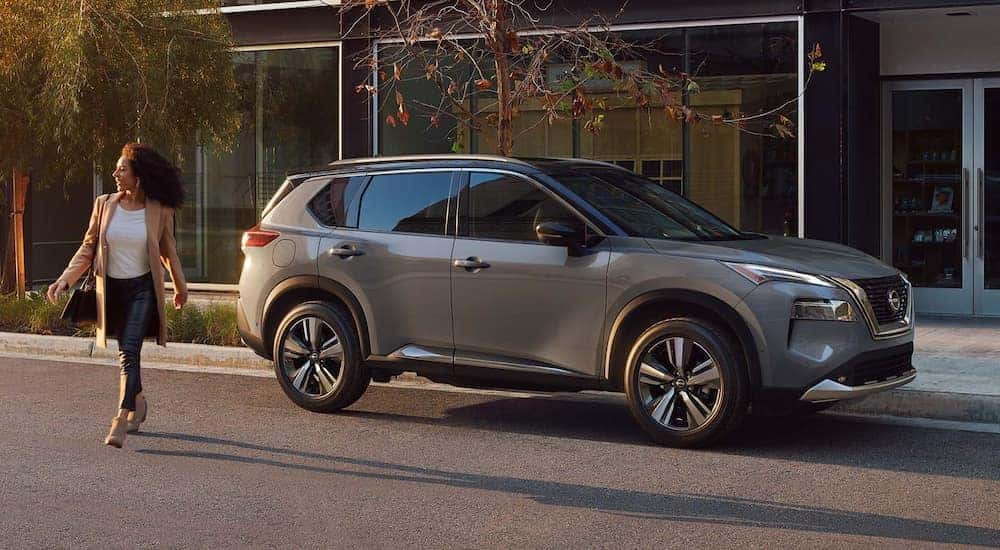 #6 Nissan Rogue
The crossover vehicle category has become the fastest-growing and one of the most popular markets in the automotive industry. As a result, most automakers have at least one crossover model on offer. However, none can rival the performance and affordability offered by the 2022 Nissan Rogue. This model has a starting MSRP of $26,700, which is pretty amazing considering what you get in a Nissan Rogue, starting with a 1.5-liter VC-Turbo I-3 gas engine with a CVT transmission.[a]
This powerful engine benefits from the use of a turbocharger, giving you 201 hp and 225 lb-ft of torque. This results in the Rogue having exceptional acceleration while not hurting its fuel economy of 30 MPG in the city and 37 MPG on the highway with front-wheel drive. All-wheel drive is also available, which won't hurt the Rogue's excellent fuel economy either, at 28 MPG in the city and 35 MPG on the highway.
The engineers at Nissan have designed the Rogue to maximize interior space so that all 5 passengers can stretch out comfortably, making it an ideal crossover SUV for families. It also has a great deal of cargo space, with 36.5 cu.ft. in the trunk that can be easily expanded to 74.1 cu.ft. by simply folding down the rear row of seats.
#7. Nissan Leaf
If you are ready to turn over a new leaf and embrace a world of zero gas and zero emissions, you should consider a 2022 Nissan LEAF battery electric vehicle (BEV). The LEAF has the design of a compact hatchback giving you easy access of up to 23.6 cu.ft. of cargo space. But the real reason to consider this BEV is its ability to free yourself from the gas pump. The LEAF has a front-wheel drive electric motor in the front axle powered by a 40 kWh lithium-ion battery pack. This will give you up to 149 miles on a single charge, ideal for commuting to work or taking the kids to school and running local errands.
Nissan has made the 2022 LEAF one of the most affordable BEVs available today, with a base MSRP of $27,800.[a] This is why the LEAF is perfect for commuters who don't want to pay for gas anymore, as well as folks concerned about the environment but are put off by the high prices for BEVs offered by other automakers.
#8. Nissan Frontier
Pickup trucks are America's most popular type of vehicle, and it's not a surprise. These trucks allow folks to tow trailers and haul heavy cargo loads while not skimping on the passenger comforts we all love, like comfortable seats and fun infotainment systems. One of the most capable and affordable midsize truck models is the 2022 Nissan Frontier. Unlike most other automakers, Nissan has equipped the Frontier with a powerful standard engine on all models, so you don't have to pay extra for performance. The 2022 Frontier sports a 3.8-liter V6 gas engine with a 9-speed automatic transmission, giving you a best-in-class 310 hp and 281 lb-ft of torque. This allows you to tow up to 6,720 lbs with your 2022 Frontier while carrying up to 1,710 lbs of cargo in its payload bed.
The 2022 Nissan Frontier is also surprisingly affordable. The base MSRP on the Frontier S is $28,690, giving you a truck with a king cab and rear-wheel drive.[a] Nissan also has the larger crew cab available on this model and a four-wheel drive option. The Frontier makes an ideal first truck, as it is smaller, more affordable, and easier to handle than a full-size truck like a Nissan Titan. Even with its smaller size, the Frontier is quite capable, as shown by its towing and hauling capabilities.
Make Your Next Vehicle an Affordable Nissan
With the ability to find sedans, SUVs, pickup trucks, and BEVs with base MSRPs less than $30,000, Nissan has positioned itself as a leader in providing affordable vehicles to drivers such as those residing in Minooka. At Thomas Nissan of Joliet, we're here for our Minooka neighbors like you and are more than happy to show you an array of great affordable Nissan vehicles for every type of driving need. Come down today and find that perfect Nissan that won't break the bank and will provide a safe ride throughout Minooka for many years to come.
---
[a] MSRP may change without notice. See dealer for complete details.