How Often Should I Service A Nissan Altima?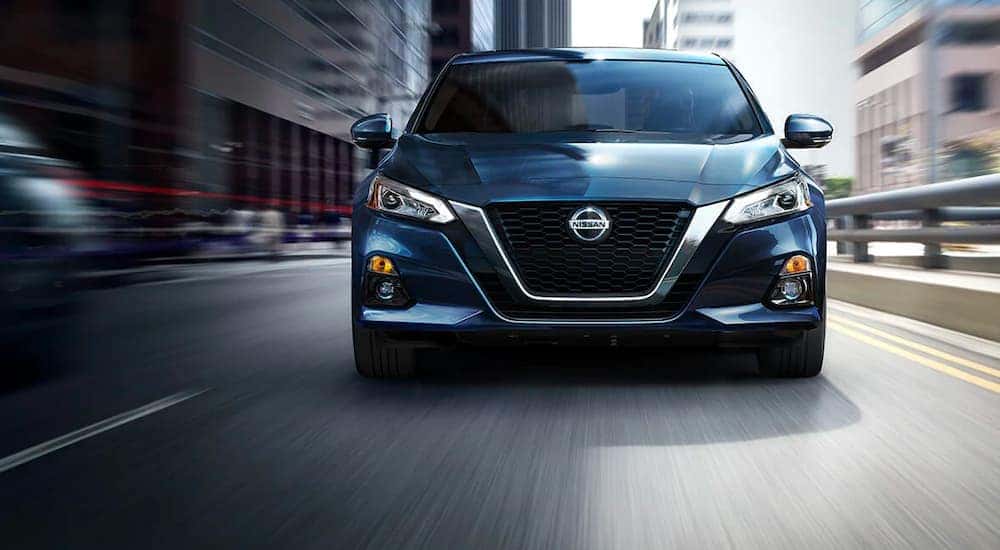 Do you own a Nissan Altima or plan on buying a new or used Altima anytime soon? If so, you probably have plenty of questions regarding service repairs and performing maintenance on the midsize sedan. How often should you get oil changes? How often should you rotate the tires? How often should you change the battery? All of these questions are probably swimming through your head. You're in luck because Nissan service and maintenance for the newer generations of the Altima happens to be relatively pain-free.
How Often Should I Get My Nissan Altima Serviced?
The first checkup for the Altima should occur after putting your first 5,000 miles on the car. Basic service maintenance should be the order of the day after the first 5,000 miles, which includes changing the oil and getting the oil filter checked or replaced. If you drive the Altima regularly (or even aggressively), then having the vehicle checked every six months would be the wiser choice.
At the 10,000 mile mark, it's important to get the car checked again, with a more thorough inspection done, with additional aspects of the Altima being added to the list in addition to oil checks, filter checks, and general service maintenance. This should be repeated at every mileage milestone put on the Altima to ensure peak performance. In fact, basic suspension and powertrain checks should be performed every 10,000 miles when you bring the Altima into a Thomas Nissan dealership for inspection.
In addition to getting the vehicle checked every so many thousands of miles for basic oil changes and filter swaps, there should be a premium maintenance check for the vehicle every 30,000 miles, or at an interval of every 36 months. You should use this opportunity to get the vehicle's resale value appraised, as well as have checkups performed on the reliability, durability, and overall performance of the Altima so you know how long the parts will last and how much more longevity you can get out of the sedan. At the 60,000, 75,000, and 100,000 mile mark, you may need to have more serious maintenance and repairs applied to the Altima. Your safest bet is to follow the Nissan maintenance manual, which suggests that you bring the Altima to a dealership at regular 10,000-mile intervals and perform regular maintenance in order to keep the car in excellent running condition.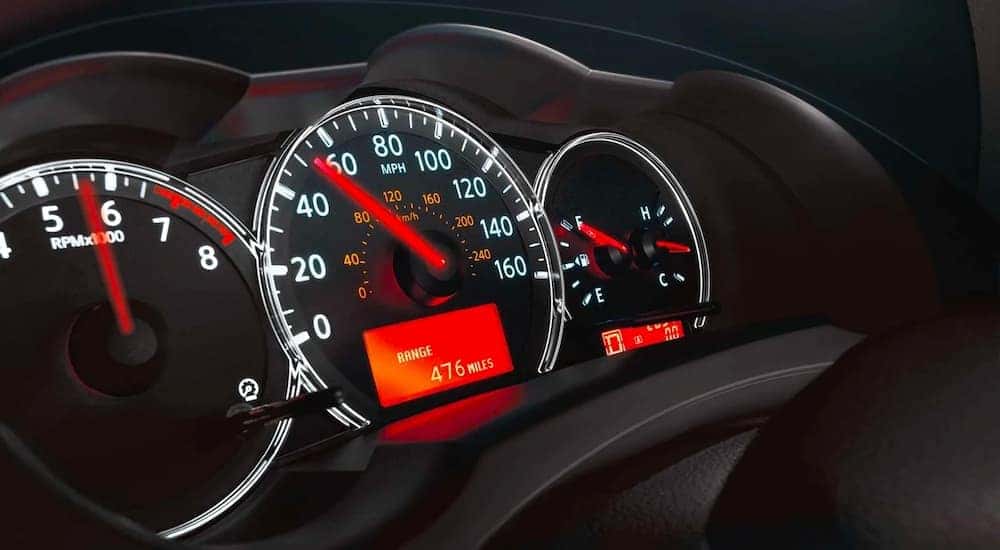 What Sort of Nissan Altima Service Checkups Should I Get?
The 5,000-mile checkup should include basic oil changes and filter swaps. At the 10,000-mile mark, you should also have the oil changed, the oil filter swapped, and the tires rotated. Mechanics should also check the in-cabin filter, brake pads, the suspension, draft shaft boots, steering column, and exhaust system. Also, be sure that a certified mechanic checks the drive belts to ensure that they're in working order, as well as engine air filters and emission control systems.
At the 60,000 mile mark, Altima's continuously variable transmission should be serviced and the transmission fluid replaced. When the Altima reaches the 100,000-mile mark, you will want to make sure that the engine coolant is checked and replaced, which should also be done every seven years or every 75,000 miles thereafter.
Other maintenance checks should include the spark plugs, which should be changed regularly, as well as emissions control vapor lines to ensure that they're not cracked, leaking, or loose. Fuel filters, fuel lines, and fuel pumps should also be checked. At regular service intervals – typically every 10,000 miles or every 12 months – you should have the mechanic replace the brake fluid, inspect the transmission, survey the front and rear axle, and examine the exhaust. Also, have your mechanic probe the steering gear, the steering linkage, the steering ball joints, and the continuously variable transmission fluid.
Can I Service a Nissan Altima Myself?
Yes. You can definitely service a Nissan Altima on your own if you have the tools and the know-how. Obviously, not everything can be repaired, serviced, or replaced with patchwork and a few parts from your garage. However, you can perform some simple maintenance on the Altima, such as oil changes, brake fluid replacement, brake pad repair, and other basic service to keep the Altima up and running.
Newer Altimas come with a self-diagnosis mode, which you can activate using the start/stop button and the door button. You begin by pressing the start/stop button five times, press the inner driver-side door button ten times, and then press the start/stop button three more times. This will allow the Altima to enter into self-diagnosis mode. During the self-diagnostics, the Altima will check a number of core system functions, from the windshield wipers and battery to the fan blower and fluid levels. The diagnostics will go through a complete check of all available systems for a couple of minutes. If anything is found to be wrong, you may encounter warning lights or information on the dashboard cluster display screen.
Additionally, the Nissan Altima has a number of parts and components that can be serviced or repaired with a proper set of guides and tools. There are plenty of do-it-yourself guides for spark plug replacement, checking the tire pressure, changing oil, and putting in a new air filter. Of course, the safer bet for drivers who aren't mechanics is to simply take the Altima into a Nissan dealership where certified mechanics can take a look at the vehicle and perform the necessary checkups, maintenance, and service repairs.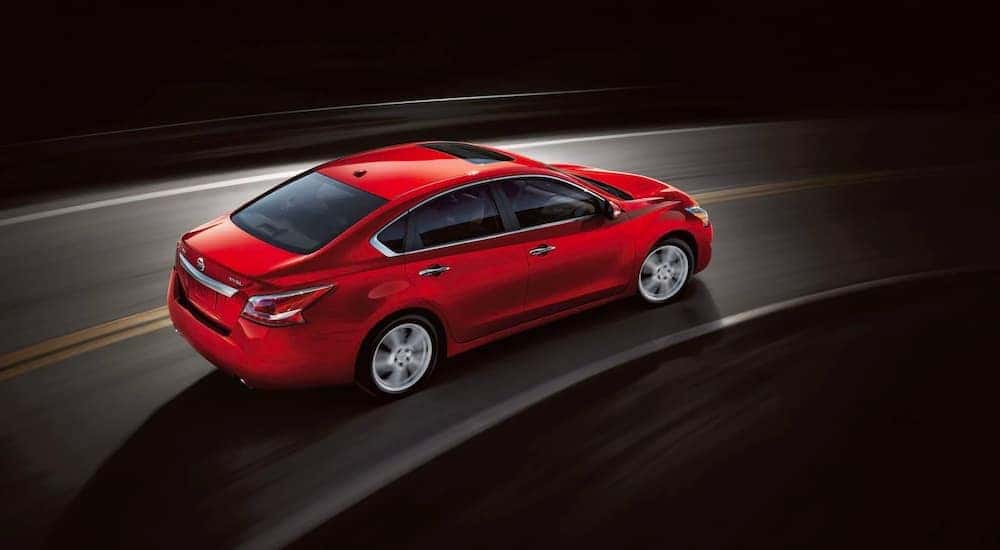 Does Thomas Nissan of Joliet Offer Nissan Altima Service and Repairs?
Yes, our Thomas Nissan dealership does provide maintenance and checkups for Nissan Altima sedans and other Nissan vehicles. At Thomas Nissan of Joliet, we are committed to ensuring the reliability, durability, and safety of your vehicle with a team of experienced mechanics who specialize in Nissan maintenance. Bring in your car, truck, or SUV today for a checkup to diagnose your vehicle and ensure that it's running as it should, and a free car wash once your service is done.
We provide oil changes, battery charges, brake services, microfilter replacements, and shock and strut management. We even have our own tire center with a supply of Continental, Yokohama, Good Year, Bridgestone, Michelin, and Hankook tires available for your Nissan, which also includes tire rotation and balance services. Our roadside hazard coverage also ensures that if your tires are damaged or get a flat within warranty, we will fix or replace them. We also offer a towing service to bring your vehicle back to the dealership if your Nissan breaks down on the side of the road.
Thomas Nissan of Joliet is Here for You
To ensure that you also don't miss a beat in life, we have loaner vehicles that you can use while your car is in the shop, giving you access to immediate transportation while your vehicle is being worked on. Additionally, you can take advantage of the Thomas Nissan auto service specials, discounts, and deals, which are available for a limited time only.
Moreover, if your vehicle has been subject to dents, dings, or collision damage, you can make use of the Thomas Nissan of Joliet auto body shop and collision repair center to get an online estimate for body shop repairs and restoration. Our certified repair technicians provide pristine craftsmanship on restoring your vehicle and repairing any visible body damage, thanks to having more than 60 years of combined auto body shop and collision repair experience.
If you're Nissan Altima is in need of service, Thomas Nissan of Joliet is here to help. Our service center is open Monday to Friday from 7:00 AM to 5:00 PM, and Saturdays from 7:00 AM to 3:00 PM. Get in touch with us online or by phone to schedule a maintenance appointment. Trust us to take care of your Nissan the way it should be taken care of to ensure your vehicle will last you a long time.