Is Brake Service Really Important?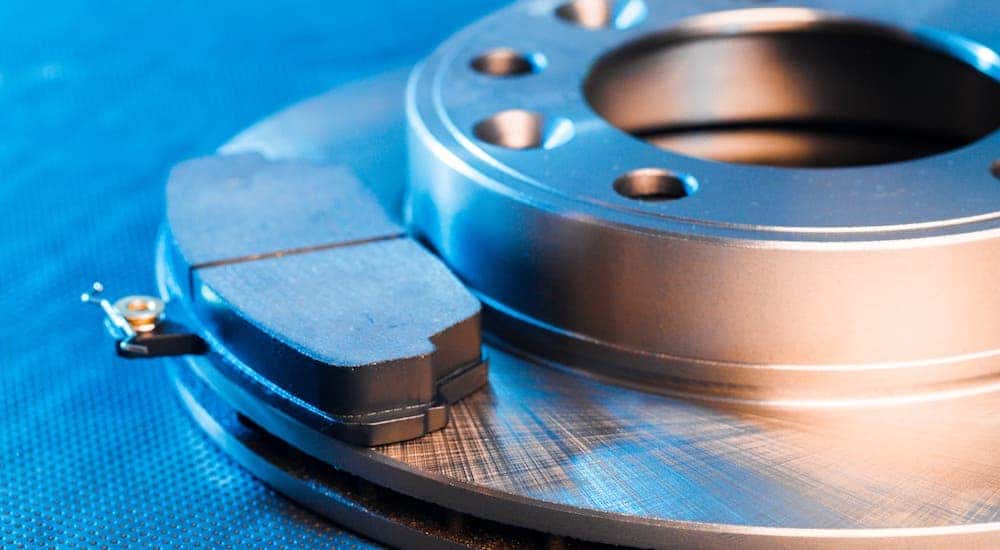 We get a lot of questions about car maintenance and repair here at the Thomas Nissan service department. That's totally understandable because, for someone who isn't around car service every day, it's easy to wonder what exactly your car needs. Our service team often gets asked if brake service is necessary. Yes, regular brake service is absolutely necessary for the health and well-being of your car and your passengers.
While there are some components of your car that don't always need immediate attention, your brakes are not on that list. Properly functioning brakes can mean the difference between life and death in an emergency, so it's important to take brake service seriously. To better understand why, let's dive into the process, timing, and details surrounding brake service.
Importance of Brake Service
We all know that brakes are a big deal. No one needs convincing of that, but it is important to be proactive in your brake service. The most important takeaway from our brake service recommendations is, don't take a chance on your brakes. If you sense something isn't properly working, don't put it off. Bring your car into Thomas Nissan, and we will look over your brakes and make a plan that's best for your vehicle.
Other than the obvious safety concerns, brake service left undone could have damaging effects on other parts of your vehicle. If you feel your brakes are wearing out, then your car is working harder to apply those brakes and stop safely. Unfortunately, you can't check this out yourself. This is another reason it's important to have professional brake service. Brakes aren't something you can take a peek at under the hood. It's best to get a trustworthy opinion from an expert. After your brake service is completed, you can be confident it was done properly.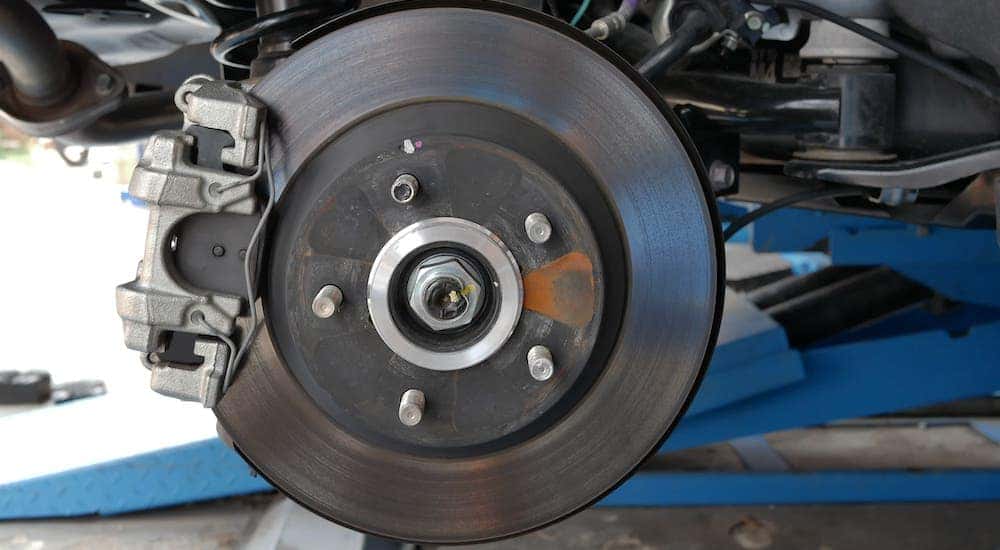 What Happens During a Brake Service?
Because brake service is a job that must be done to perfection for safety, it's important to know the process of servicing your brakes. We take pride in our work and have the expertise to do it the right way, the first time, for the right price. The first step is bringing your car into our service department, and we'll review your brakes and decide what type of service is best. You may not need any parts replaced, but we also like to go the extra mile to make sure all components of your brake system are working properly.
A brake service process could include flushing out old brake fluid and refilling with new fluid. We also resurface rotors and adjust brake mechanisms, plus clean and lubricate necessary systems. If we find that repairs are needed during our inspection, we have the parts you need. All of the parts we use are high quality, which is essential in brake service. We aren't looking for the cheapest part; we're providing the right manufacturer parts for your car so that it works long after you leave us.
We keep an inventory of factory OEM parts that fit with your make and model perfectly. Using factory parts for brake service or any car service will ensure your vehicle's repair will stay solid. Our process is efficient too. Since we have a full inventory of parts, this reduces the wait time to complete your brake service. We don't want to keep your car in the shop longer than it needs to. Our certified technicians know how to complete brake service effectively and efficiently.
If you have questions about any part of the brake service process and want to know exactly what work is being completed, just ask! We're happy to explain in as much detail as you want to know. We know how important trust is during car repair, and we can assure you of our trustworthiness. You can schedule your brake service at Thomas Nissan through our website or by giving us a call.
How Often Do I Need Brake Service?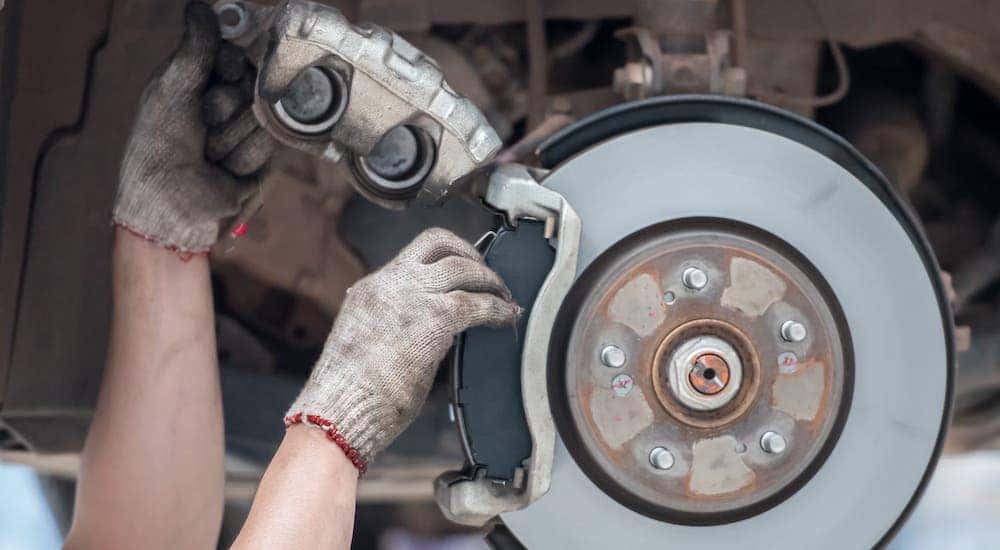 Typically, it's recommended you have your brakes inspected at least once a year. This is something that can easily be done during one of your other routine maintenance visits. If you're already scheduled for a visit, ask our team about a brake service as well. From there, the technicians will recommend if it's appropriate to have brake service now or when you should plan for it.
Generally speaking, you can expect you will need your brakes serviced about every 20,000-50,000 miles. Of course, if you hear any odd noises or feel like it's not properly working, then you should have your brakes checked as soon as possible. Depending on your driving habits and road conditions, you could need a brake service sooner, so it's important not to rely solely on that mileage range.
There are a number of factors that can help determine the right time for your brakes to be serviced. If you're frequently towing or hauling a heavy load in your vehicle, this will impact your brakes. Overall, if you believe your driving habits stress the brakes quite heavily, it's a good idea to be conservative and have your brakes frequently inspected and serviced. No matter what conditions are like when you drive, you will ultimately need brake servicing and eventual replacement. Just like with other car components, brake pads eventually wear down. If you're having your brakes serviced regularly, our team will help you stay on top of this and plan for the next steps.
How Much Does it Cost?
By far, this is the most common question we get for any of our car services, and it's a fair question. While there's a lot that goes into the cost of brake service based on the parts used, amount of labor, and services completed, we can assure you we are priced competitively. When you trust Thomas Nissan with your brake service, repair, and replacement, you're receiving high-quality factory parts and expert technicians. We also love helping you save money. Check our website for service specials because we're always looking for ways to keep more money in your wallet and still receive the best service.
Know this, too; brake service is not something you're throwing away money on. You are putting an endless amount of faith into your brakes every time you get behind the wheel. When you have your brakes serviced, repaired, or replaced, it's money well spent for the well-being of your passengers and vehicle.
Get Your Brakes Checked Today
Brake service ranks near the top of the list of car repairs you should prioritize. We all know how important brakes are in a vehicle, and it's important to be proactive instead of waiting for something to wear down. Having your brakes serviced is absolutely necessary and can easily be completed at Thomas Nissan. We use factory parts to ensure the quality of the service and go the extra mile to make sure the entire brake system works properly. Keep your driving habits and road conditions in mind as you plan for brake servicing, and err on the side of caution if you're unsure. Schedule your service today at Thomas Nissan, and we'll walk you through each step of our brake service process.