Nissan Charges into the Future With the All-Electric Ariya SUV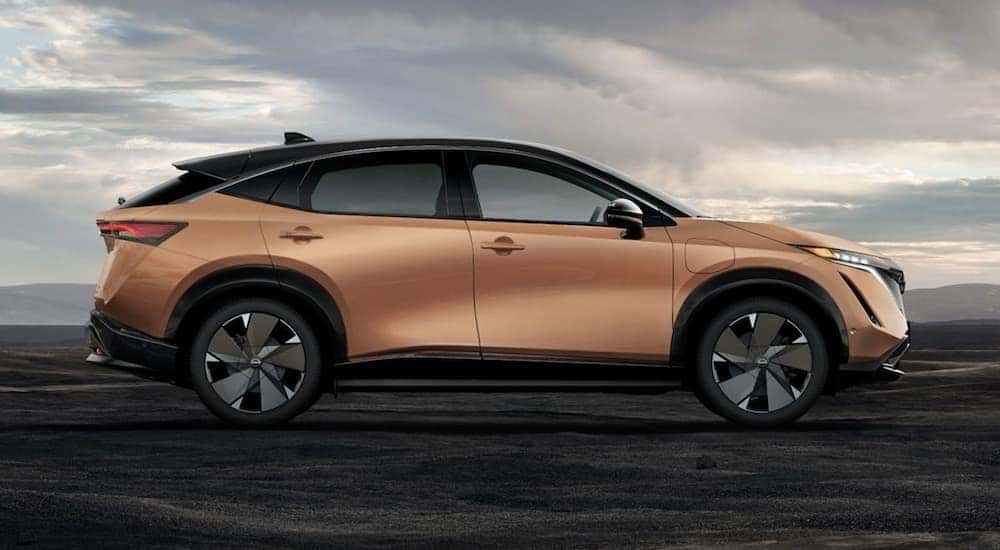 Alternative energy vehicles were once a major compromise, costing drivers a great deal of money for a vehicle that was often cramped, underpowered, and lacking in quality finishes. These early electric vehicles (EVs) were strictly utilitarian. But one automaker decided to make no such compromises in building a Nissan EV. This is what the designers behind the Nissan Ariya had in mind when tasked with making an all-electric SUV. From early reports, it appears that they have designed a vehicle that is sure to bolt ahead of its competitors in the increasingly crowded EV marketplace.
The four areas where the Nissan Ariya is sure to excel are the same ones that most people find lacking in an EV: performance, roominess, luxury features, and safety. Think about it; in a Nissan Ariya, you will get all of the benefits of low emissions and great fuel efficiency in a package that is stylish, sporty, fun to drive, and luxurious.
Come into our dealership to see for yourself why you should make your next SUV an EV and why the 2021 Nissan Ariya is that model. At Thomas Nissan, we offer one great low price to all our customers, so when you price your Nissan Ariya, you know you are getting your Nissan EV at the best price without any hassles. We are conveniently located in Joliet, just a short drive from Chicago, and proudly serve drivers from all over Illinois.
Unparalleled Electric Performance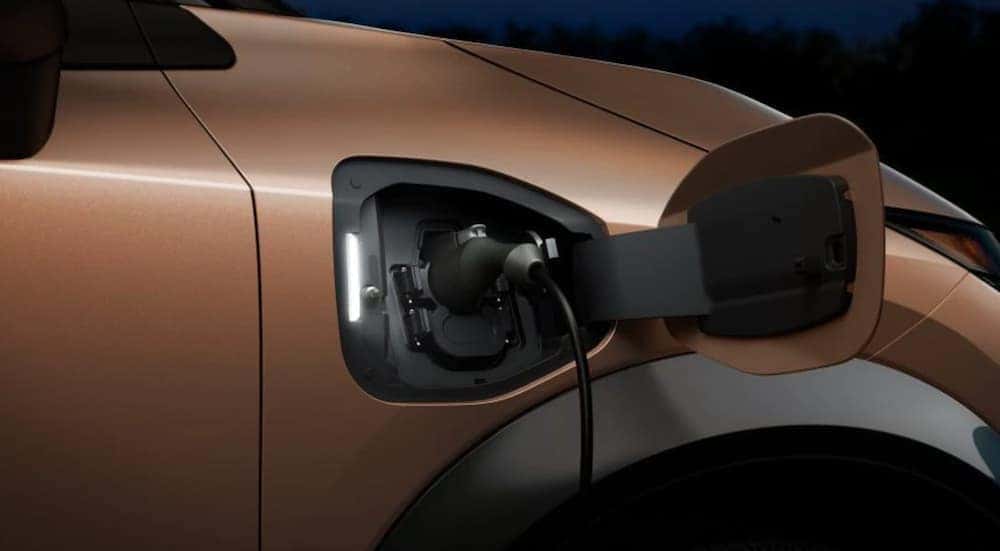 The Nissan Ariya features the latest in EV technology to provide you with the best performance in an EV SUV. Nissan offers a choice of two batteries as well as two drive trains. The standard battery has a 63 kWh battery capable of producing 215 horsepower and generating 281 pound-feet of torque. There is also an optional 83 kWh long-range battery that can produce up to 389 horsepower and generate an amazing 443 pound-feet of torque. The long-range battery has an estimated range of 300 miles on a single charge, which makes it the more preferable one if you plan on going on long road trips.
There are also two drivetrains to choose from with the Ariya. The standard is a front-wheel drive, which relies on the battery to power an electric motor in the Ariya's front axle. If you want greater traction, you can choose to equip your Ariya with an e-4ORCE drive. This is an all-wheel drivetrain with dual electric motors, one in the front axle and the other in the rear. Nissan refers to these electric motors as EESM, which stands for Externally Excited Synchronous Motor. We just call it "exciting" as the performance from these electric motors is really something you have to try out for yourself. You can also drive the Ariya with e-Pedal, a single pedal driving system that slows the vehicle down as soon as you take your foot off of the accelerator.
The output on the Ariya's battery ranges from 160 kW on the standard range battery to 290 kW on the long-range model. As a result, the Ariya will take you from 0 to 60 miles per hour in under 5 seconds, making it one of the fastest midsize SUVs on the market today. This is because, as an EV, the Ariya can transfer all electric motor horsepower and torque to the front and/or rear wheels instantaneously. As we said, there is no compromising performance on the 2021 Nissan Ariya.
Unparalleled Roominess
One of the things that truly put people off with early EVs was the lack of room in the passenger compartment. So many EVs placed the battery pack either in the trunk, taking away from cargo space, or in the back row of seats, making the interior cramped and uncomfortable, especially for passengers who drew the short straw and got stuck riding in the back. The Nissan Ariya changes all of that.
Nissan has gone for a minimalist design with the Ariya's interior, and it truly pays off with greater comfort, space, and luxury. The battery is safely at the base of the chassis, with a low floor to provide greater legroom than in comparable vehicles, especially in the rear seats. As a result, the midsize Ariya can accommodate 5 passengers, with no one complaining about not having enough room in the back or even the often dreaded rear middle seat. If you are just cruising along in your Ariya with just someone special, you can slide the center console back for more room in the front.
Unparalleled Luxury
The designers at Nissan have gone for a luxurious minimalist approach to the design of the Ariya. The exterior is sleek and futuristic, with clean lines to make the vehicle more aerodynamic. This is carried over to its interior with a look not unlike a classic café. The cabin has a cohesive feel without any extraneous nobs and buttons, allowing all of your passengers to truly relax. The front row features a pair of slim-profile Zero Gravity seats that are extremely comfortable and ergonomic, while the rear has a bench seat with neat and stylish accents and ornamentation carried over from the front seat.
The Ariya is also a case where form follows function. The climate control system is in the area under the hood normally occupied by the vehicle's powertrain. This has freed up more space under the instrument panel in the front, in which the Nissan designers have placed a storage box and fold-out tray, which can be used as a mobile workstation or for grabbing a quick snack on the go.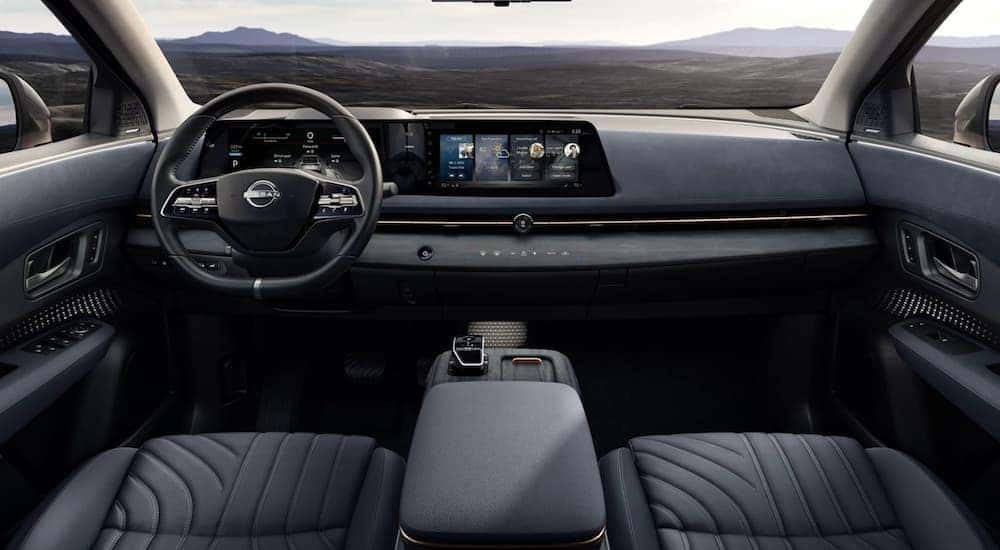 Unparalleled Safety
Nissan has shown itself on the cutting edge of active safety and driver assistance technology. This continues with the Ariya. The ProPILOT Assist 2.0 system provides a great many driver assistance features, including one that allows drivers of the Ariya to take their hands off the steering wheel for periods of time on certain roads. The ProPILOT Assist 2.0 will take over the driving for you, keeping your Ariya centered in the lane and maintaining a safe distance behind the vehicle in front of you. It also will help you with lane changes in traffic, keeping track of other vehicles on multi-lane highways. This is because the ProPILOT Assist 2.0 system utilizes the latest in navigation and 3-D mapping technology.
This dedication to safety carries over to the standard suite of six active features in Nissan Safety Shield 360. Automatic Emergency Braking with Pedestrian Detection will reduce the risk of a collision if the system detects a pedestrian or other vehicle in your path. Blind Spot Warning will alert you if it detects another vehicle in your blind spot when you are changing lanes. Lane Departure Warning works in a similar way, except it will sound a warning if you cross into another lane without signaling.
Rear Cross Traffic Alert activates when you put your Ariya in reverse to let you know if there is another vehicle or pedestrian about to pass behind your vehicle. Rear Automatic Braking will then engage to bring your Ariya to a stop if you are still in reverse and the system detects another vehicle or pedestrian in your path. Finally, High Beam Assist will turn your high beams on if you enter an area of low light and then turn them off either when you get to an area with improved lighting or the system detects another vehicle oncoming. This will prevent you from inadvertently distracting another motorist.
With ProPILOT Assist 2.0 and Safety Shield 360, Nissan shows its commitment to your safety. These features make the Ariya one of the safest EV SUVs you can buy, with active technology to reduce the chance and impact of a collision.
Nissan Ariya Is on Its Way!
All of these unparalleled features make the Nissan Ariya one of the most anticipated new vehicles. This will give you unparalleled performance, comfort, luxury, and safety in a vehicle that provides the benefits of a full EV, with reduced emissions and exceptional fuel economy. The 2021 Nissan Ariya is on its way to our dealership, so don't be shocked when you see why your next SUV should be a Nissan EV!