The 2021 Nissan Rogue: An Impressive Improvement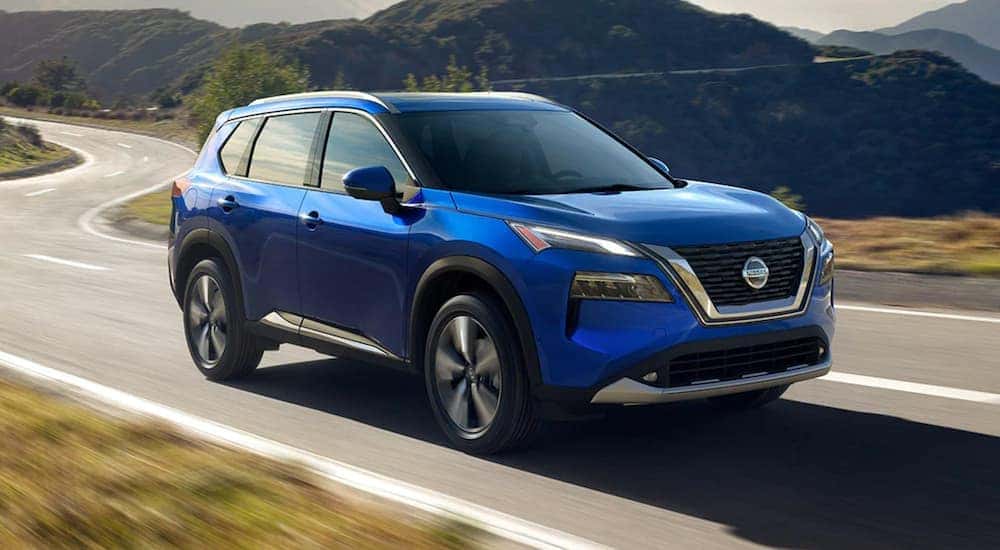 Nissan is a diverse brand, offering everything from race cars and sports cars to practical vehicles such as SUVs and hatchbacks. While the fast life is appealing for some, others would rather play it safe with something more sensible. If that's the case for you, then Nissan SUVs are your best bet. Particularly the 2021 Nissan Rogue.
There are several Nissan SUVs on the market, including the Murano, the Pathfinder, and the Kicks, to name a few, but the 2021 Rogue is one of the most appealing. The Rogue has been around since 2007, but this new version comes with so many upgrades that go above and beyond what Nissan has provided us with before. Between its upgraded looks and its impressive technology, the 2021 Nissan Rogue is an impressive new model to drive home in.
The Rogue's History
The Nissan Rogue debuted in 2007, in both all-wheel drive and front-wheel drive options, getting an average of 22 MPG in the city and 27 MPG on the highway. The later 2016 model could get up to 26 MPG city and 32 MPG highway, with 39.3 cubic feet of cargo space and even hybrid gasoline trim options. Finally, the 2019 model improved even more, adding eco mode and driver's assist tech features not seen on previous models. This is where a lot of the 2021 Rogue's features began, but this newest model takes it further than ever before. Let's take a look at what we know about the 2021 Nissan Rogue so far.
The Aesthetic Appeal
Just because the Rogue is practical does not mean it can't be sporty too. The Rogue still comes with a two-tone design option, but this time it's a lot more attractive. The trim is slimmer, appearing much less bulky than previous models. Additionally, the new roof appears to be invisible, and its spoiler and front grille gives it a sportier appeal. There are eight different color options to choose from for this new model that will give it a sleek and shiny exterior that will turn heads as you drive by.
This SUV's interior is even better than its exterior, with its ambient lighting, quilted semi-aniline leather seats, and its digital dashboard. Oh, and let's not forget the extra space and accessibility. The 2021 Rogue comes with a butterfly-opening center console and wide-entry wear doors to create a comfortable yet visually appealing experience. The main thing here is that the Rogue has dramatically improved upon its aesthetic all around. Both its exterior and interior are far more appealing than ever before.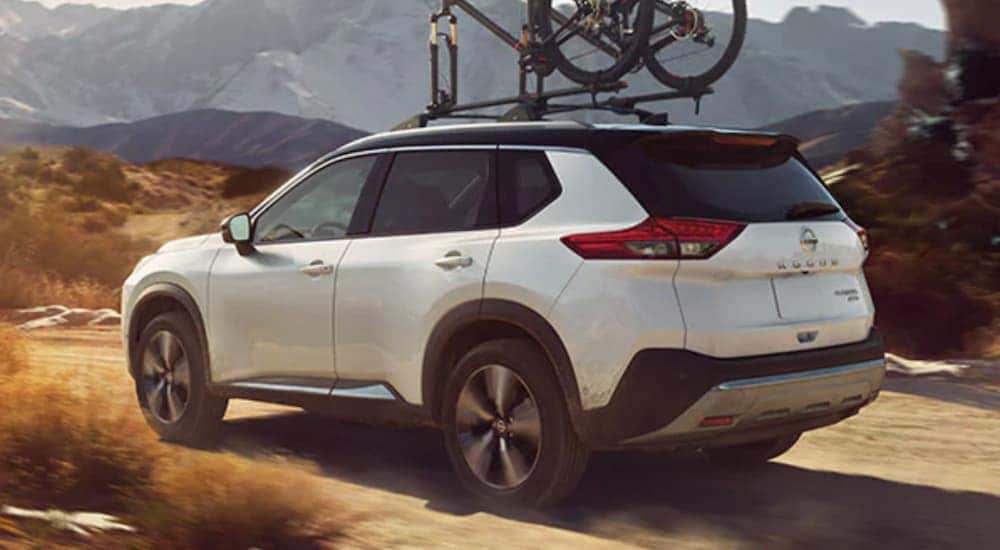 Technology
Safety tech is perhaps the 2021 Rogue's greatest asset. It comes with Safety Shield 360, which adds automatic emergency braking with pedestrian detection, blind spot warning, high beam assist, lane departure warning, and rear cross traffic alert. Additionally, the Rogue includes ProPILOT assist with Navi-link, which uses technologies to make your ride adjust to the cars around you. In short, it centers you in your lane, can predict future curves and twists, adjust the car's speed, and can automatically stop you when necessary. This is helpful after stressful days or when your mind is cluttered, and your attention isn't 100% focused on the road ahead. It's best to be alert on your own, but some assistance definitely doesn't hurt.
The tech fun doesn't stop at safety, though. The 2021 Nissan Rogue comes with three high-tech displays. How the heck can a vehicle have three different displays, you may ask? The answer lies within Nissan's decision to virtualize the dashboard. Instead of having the traditional speedometer and temperature dials, the new Rogue comes with a digital dashboard. This dashboard displays music tracks, the time, and other useful information. Now, what about that third tech display?
Well, this one is actually a projection. Yep, to help keep drivers safe, Nissan includes a heads-up display that projects directions and other useful information right onto the windshield. Now, there's no need to look away or get distracted while driving. At least, not when you are driving in the vehicle alone; as we all know passengers can provide plenty of distraction and fun on the road. The last display is the regular touchscreen Infotainment system that most vehicles have now. This one is a 9-inch touchscreen that provides you with several different navigation options, including Nissan Door-to-Door, Google Maps, and Waze.
Driving Modes
Nissan is keeping up with modern technology by implementing drive modes. The 2021 Rogue comes in 5 drive modes, including sport mode, off-road mode, snow mode, auto mode, and eco mode. No matter where you want to go, the Rogue can get you there,
If you like to have an occasional off-roading adventure, but you're not necessarily planning on going mudding anytime soon, the off-road driving mode is nice to have. Just because you don't need a Jeep Wrangler doesn't mean you plan to stay on the pavement 24/7. Additionally, eco mode is great to use when you want to save mileage, help the planet, and when you don't need extra power.
Snow mode is great for anyone living in, or visiting, a climate where snow and ice are common. This can also be useful on really rainy days where the road becomes slippery. Sport mode is for those looking to feel the pavement passing under the wheels, with heavier steering and a sharper throttle. Finally, Auto Mode will give you the smoothest drive to get you through all your day-to-day tasks.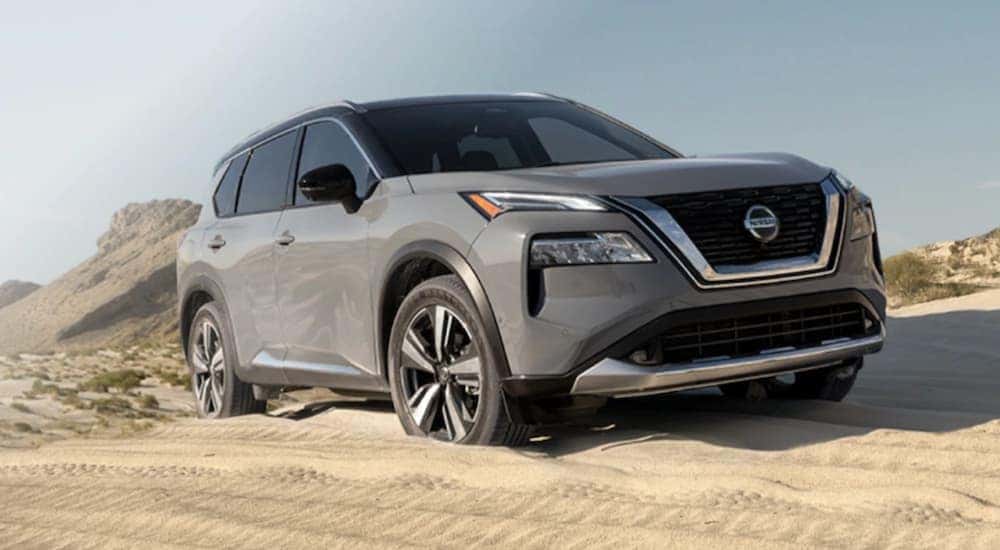 Important Specs and Test Scores
Previous Rogues do not compare to the 2021 model. It has definitely improved upon itself, which shows that Nissan is paying attention to customer feedback. Like most newer vehicles, the Rogue gets better mileage than its previous models. That said, it's actually quite fuel-efficient for its class, too, landing at 27 MPG in the city and 35 on the highway with FWD and just 1 MPG less with AWD.
Looking under the hood of the 2021 Rogue, you will find a 2.5-liter four-cylinder engine. This engine produces 181 hp and 181 lb-ft of torque. Find it paired with an Xtronic continuously variable transmission (CVT) with manual mode. The CVT adapts to your driving conditions, shifting automatically to give you a smooth ride. The manual mode allows you to take back the control with steering-wheel mounted paddle shifters that allow you to shift through the gears yourself.
Let's also acknowledge that this crossover is decently sized, with 74.1 cubic feet of cargo capacity and under-the-floor storage departments. Previous older models only had around 70 cubic feet of cargo space, so the 2021 model is definitely doing better in that department as well. The Rogue holds up to five passengers and has four doors for easy access. There are plenty of other nice assets, including USB ports, an optional sunroof, and Apple CarPlay and Android Auto, to name just a few of its handy features.
Why The 2021 Rogue Is A Game-Changer For Nissan
The newest Rogue performs better, it has a much nicer visual appearance, and its 360-Safety system makes it secure and trustworthy on the road. Between the tech features, the three displays, the five drive modes, and vastly upgraded cargo capacity, the 2021 Rogue is easily the best one so far. It gets slightly better gas mileage than its competitors, and its ProPilot Assist feature is great for new drivers and anxious drivers alike. Its base price is a steal, starting at $25,650. If safety, style, tech, and capacity are all important to you, then the 2021 Nissan Rogue is the SUV for you. Come visit Thomas Nissan in Joliet, IL, to test drive a Nissan Rogue today.