Treat Yourself to Lunch After Your Next Oil Change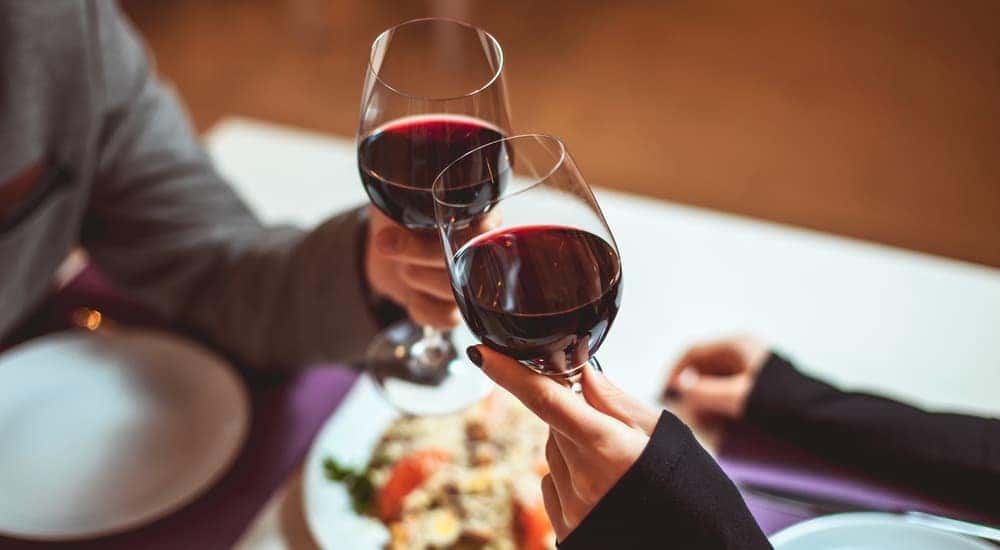 Due to current health concerns, please be aware locations may have restrictions.
The dreaded day has arrived. Your car's oil light is on, and you can longer put off getting an oil change. No one wants to feel like they're wasting time at the repair shop, or worse, end up getting scolded about the condition of their car. Too often, a routine oil change leads to a discussion about loads of other work that needs to be done to your vehicle. Luckily, you can rest assured that you won't run into this scenario at Thomas Nissan in Joliet, IL. To top it off, we have some amazing restaurants nearby that'll turn visiting our shop for an oil change into an eventful and enjoyable day out on the town.
Barolo Ristorante
For a classy lunch with a European flair, sample the elevated Italian cuisine at Barolo Ristorante. There is something for everyone on their lunch menu. Barolo offers typical Italian fare, like veal piccata with capers, garlic, and lemon. Grab a glass of pinot grigio, and split a plate of ravioli quattro formaggi in a spicy tomato sauce. Enjoy Italian classics like chicken marsala and bruschetta tradizionale (grilled crostini topped with Roma tomatoes, fresh herbs, prosciutto, and mascarpone).
Not only are Barolo's meals appealing to the eyes, but you'll also love the fresh ingredients and savory sauces handmade for each meal. If you enjoy fish, try their grilled salmon. The North Atlantic salmon is grilled with a hint of fennel essence and uniquely accompanied by grilled cucumber. Barolo also has a Florida red snapper roasted with butter, pinot grigio, and lemon served over roasted spinach. For a more casual meal, why not order one of Barolo's delicious sandwich options?
Salmon fillet sliders with tomato, tartar sauce, and grilled artichokes on mini burger buns are a step up from a lackluster submarine sandwich. Mini lamb burgers topped with tomato, fire-roasted spinach, and paired with cucumber sauce make lunchtime feel special. Barolo's surprises diners with tasty menu selections, including their barbeque sandwich, stuffed with slow-cooked boneless baby back ribs. The ribs are dry-rubbed and cooked to perfection, combined with hickory-smoked ham, whiskey barbeque sauce, and pepper cheese on a toasted bun.
With such tantalizing selections at Barolo Ristorante, you might find yourself heading to Joliet more often. Find it located on 2765 Black Road. Their regular hours are 11-2 p.m. for lunch on Monday through Friday and 4 to 9 p.m. for dinner most nights. On Fridays and Saturdays, Barolo is open a bit later (till 10 p.m.), and Sundays are reserved for banquets only. Luckily, Barolo's hours overlap with our own, so you can enjoy a nice meal after getting your oil change done at Thomas Nissan.
Taste of Jerusalem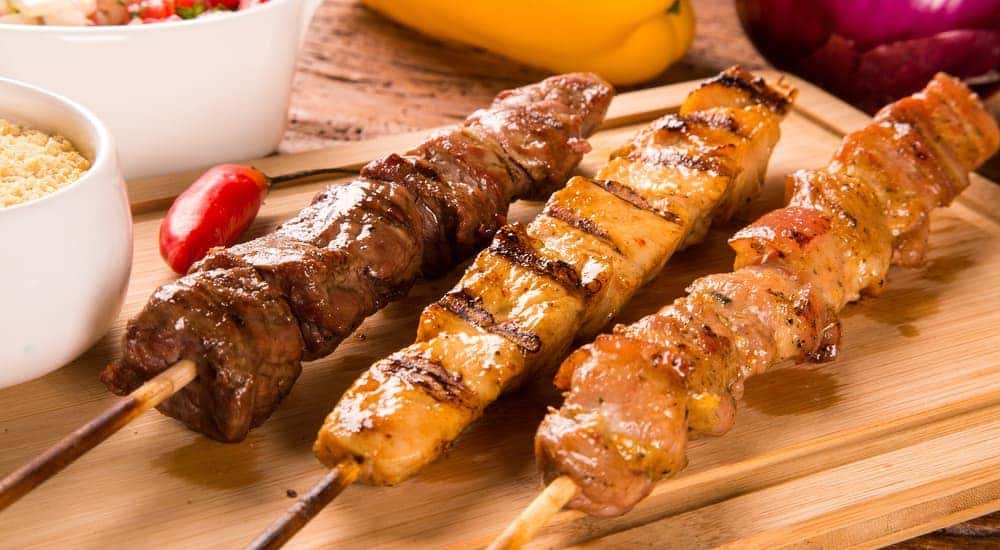 They say the Middle Eastern diet is one of the world's healthiest, but it isn't always easy to find a good Middle Eastern restaurant nearby. Fortunately, just a hop, skip, and a jump from Joliet, Taste of Jerusalem in Plainfield brings this exciting cuisine closer to home. You may be familiar with the aroma of marinated meat rotating on a spit or the smell of roasting chicken or beef. This is called Shawerma and is served at Taste of Jerusalem with garlic sauce, sliced onions, and tomatoes.
Middle Eastern cuisine is also known for another, more familiar, meat on a stick. Taste of Jerusalem serves beautifully cooked chicken, kafta (ground beef), lamb, or beef kabobs, with two to an order. Do a combination platter that comes with one skewer of the beef, chicken, and kafta to sample them all. For those who prefer to eat vegetarian, falafel is available in a couple of different preparations. Try it as an appetizer or as a sandwich on pita bread. You can also check out Taste of Jerusalem's vegetarian platter for some tabbouleh salad, hummus, and baba ghanouj, along with falafel and stuffed grape leaves.
For even healthier options, Taste of Jerusalem has plenty of salad choices to offer. Their signature Jerusalem salad features diced cucumber, onions, lettuce, and tomato with a lemon olive oil dressing. Tabbouleh salad is also an option, flavored with lemon, cucumber, parsley, mint, and olive oil, built around cracked wheat. Choose a half a rotisserie chicken marinated with Middle Eastern spices, or go for a whole chicken to satisfy a bigger appetite.
Just ten minutes from our dealership, this wonderful Mediterranean Grill is the perfect place to dine while you get your oil change done. Never had this type of food before? Let Taste of Jerusalem show you how it's done in style. Don't let an oil change waste your time; use it as an excuse to try something delicious.
Hamburgerseria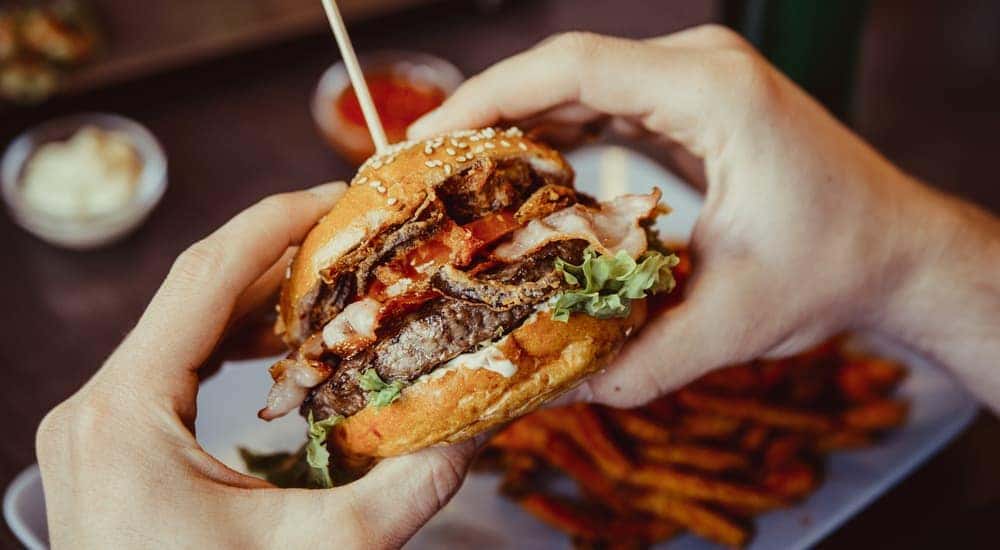 Are you looking for more traditional American fare? Look no further than Hamburgerseria. Along with a menu of American favorites, there are plenty of surprises to try as well. Start your meal with tater tots made two ways. The first is with smoked bacon, sour cream, green onions, and cheddar cheese. The second option is buffalo sauce, bleu cheese dressing, green onions, and crumbled blue cheese. You can also choose from several types of fries, chips, and sliders to start your dining experience.
Don't forget to look at some of their amazing salad options. Hamburgerseria has quite a few chicken options, ranging from a simple grilled chicken salad with romaine, iceberg lettuce, onions, tomatoes, and grilled chicken, to salad nicoise. The salad nicoise features alexia potatoes and chicken breast over romaine lettuce, green beans, diced tomatoes, hard-boiled egg, green onions, and Greek olives. If you're in the mood for a steak dinner (in salad form), there is a steak salad with red onions, romaine lettuce, alexia potatoes, bleu cheese crumbles, and ribeye steak. There's even a burger salad to get your beef without a bun.
Of course, the claim to fame at Hamburgerseria is their hamburgers. Go for a classic turkey burger with lettuce, tomato, onions, and burger sauce or a novel salmon burger with shredded lettuce and dill sauce. There's an abundance of unique burger choices, such as the Colorado, which matches spicy jalapenos with cooling cream cheese and savory bacon. The Philly cheese has roasted red and green peppers, grilled onions, swiss cheese, and a decadent aged cheddar cheese sauce.
You only have to travel seven minutes to get from our dealership to Hamburgerseria on Essington Road. It's easy to slide over there for an adventure into mouth watering burgers before or after getting your oil change done. Don't miss out on this opportunity to try something new and exciting.
Make the Most of Your Oil Change
No matter where you decide to go for lunch, you'll be happy to have a full stomach, along with a full oil tank. Remember, your oil change doesn't need to be a downer. Our friendly service technicians at Thomas Nissan take care of everything, including filter changes. When you come in to see us, one of our staff members will bring you to our welcoming waiting rooms where you can enjoy a cup of coffee on the house.
At Thomas Nissan, we prioritize customer care. Don't forget that in addition to oil changes, we offer other services as well. Our Nissan Express service offerings include tire rotation, cabin filter replacement, wiper replacement, battery service, and many scheduled maintenance services. Whatever the issue, we can find it and solve it using our thorough, multi point vehicle inspection. We want you to be able to get on the road as fast and hassle-free as possible.
Thomas Nissan is the perfect dealership if you are looking to purchase a new car. Find the latest model years, as well as certified pre-owned vehicles at unbeatable prices. Whatever your budget, our sales team is here to help. For transparent financing, our easy credit pre-approval process is fast and won't even affect your credit score. You can be pre-approved in seconds, saving you time and hassle. At Thomas Nissan, we are here to support you before, during, and after your vehicle purchase. Come on down to see us in Joliet (after lunch, that is).