Two New Nissan Redesigns For 2022
The Nissan Pathfinder and Frontier have been present on the lot of Joliet car dealers for some years without any facelift, slowly looking more and more archaic with each passing generation. With so many different makes of midsize trucks and three-row SUVs in the market, Nissan needed to do something, anything, to stand out. That is why for 2022, both models have received extensive redesigns and updates in standard technology. V6 engines remain the standard power plants, but nearly every aspect of these vehicles has been modernized.
The Pathfinder has been a popular choice for families, and the Frontier carries the expectations of fans of the old Nissan Hardbody pickup. 2022 stands to be a watershed year for many automakers with the rising tide of EVs and the introduction of old nameplates. These upcoming Nissan redesigns will, with any luck, let Nissan remain competitive in the ever-growing and changing markets. Both models are worth digging into, even if only to avoid their being overlooked in one's new vehicle search.
New Bodystyles
The Pathfinder and Frontier claim to take inspiration from the first-generation Pathfinder and the Hardbody, respectively. This can be seen in a neat little nod to the original Pathfinder on the 2022 model, although the triple bar set up on the top of the grille is so subtle only sharp-eyed drivers keen on Nissan history might notice. However, it is harder to tell exactly how the 2022 model of Frontier is anything like the Hardbody at all, beyond having the rugged capability of a Nissan truck. The only detail I can see are some flared wheel openings, and that's hardly anything to get worked up about in the midsize truck market.
That being said, both designs play very well off each other and look in line with the rest of Nissan's current lineup. Thankfully gone is the blobby, outdated look of the last generation Pathfinder, being replaced with a more boxy and tough exterior, hardly what one would expect from a tame, family carrier. The standout design element is the large V-Motion grille, flanked on either side by two massive bars of chrome. It's a commanding presence and a welcome sight among the more tame SUVs in this segment.
The Frontier has also moved away from its more rental fleet-looking exterior to something bolder and truer to its nameplate. It looks able to take on some new and exciting frontier, with prominent ride height and clearly displayed bash plates curving slightly into the front bumper. The black grille and grille insert are a sturdy-looking criss-cross of bars that fit in with the rest of the rugged styling features. Beyond the aforementioned bulging wheel flares, the sides offer subtle styling cues. The rear is similarly understated, save for the name of the truck spelled out on large letters on the tailgate under the Nissan badge.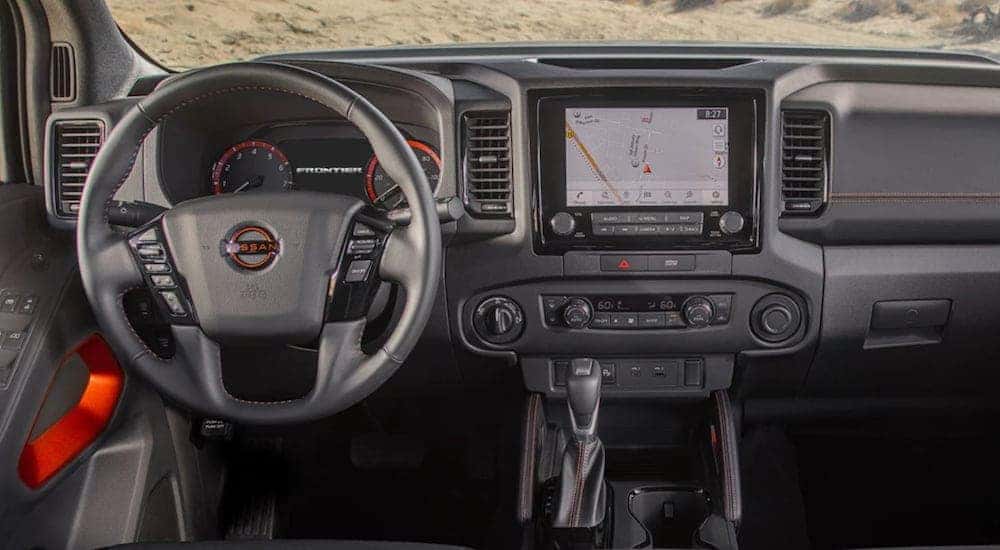 Updated Cabins
The Pathfinder's cabin is a thoroughly modern place to be, with a large center console housing the transmission controls and cup holders. Climate controls consist of knobs and buttons housed below the rectangular air vents, and it's good to know one won't have to mess with touch screens to use them. Lastly is the expected touchscreen, flanked on either side by control knobs. The gauge cluster can also be upgraded to a fully digital display with a customizable interface for more screen area. The rear bench seat can be replaced with dual captain's chairs, which is a welcome addition from older SUVs that I'm glad to see are making a comeback.
The Frontier, meanwhile, is much simpler on the inside with a symmetrical dash layout. Two squared-off wings flank a large square touchscreen with HVAC controls housed below it. The control knobs are large and simple to operate (if looking a bit spread apart). The seats look comfortable and are upholstered in long-lasting cloth. Two round gauges are inset into the dash panel with a small display screen in between them. Thankfully, what could be yet another dreary, gray, plastic cabin of our modern car market has splashes of vibrant color here and there on the door panels and in the gauge cluster.
Drivetrain Updates
As stated at the start of this article, both models use a V6 engine coupled to a nine-speed automatic transmission. This really is quite the update, as Nissan has been a bit infamous for using CVTs, which while renowned for delivering good fuel economy, simply cannot give the same driving experience as a regular automatic. For those not familiar, CVT stands for Continuously Variable Transmission, and while the complex workings of one would take up an entire article on its own, it is worth knowing it is a transmission that does not "shift" gears as most are familiar with. It uses a series of belts to deliver power seamlessly to the wheels and can be a bit off-putting to drivers who are not used to it. Some have likened driving a traditional CVT to being in a motorboat. One minute not moving, the next minute accelerating with little to no indication of power transfer.
This is why, in recent years, many automakers have chosen to make their CVTs "shift" by pausing power delivery for a short moment to behave something like a regular automatic. While understandable, such a thing renders a CVT pointless, and a regular automatic is also much easier to service when the time comes, so it's natural for Nissan to have finally moved away from using them. Something interesting to note here is that your CVT would fake shift for the same reason your turn signal clicks. In older cars, the sound was a byproduct of metal contacts opening and closing to make your lights blink off and on. Now, the contacts are gone, but the sound remains. Yes, it's to let you know your blinkers are on, but it's also a subtle reminder that we humans tend to get uncomfortable when we expect certain sounds or feelings and don't get them.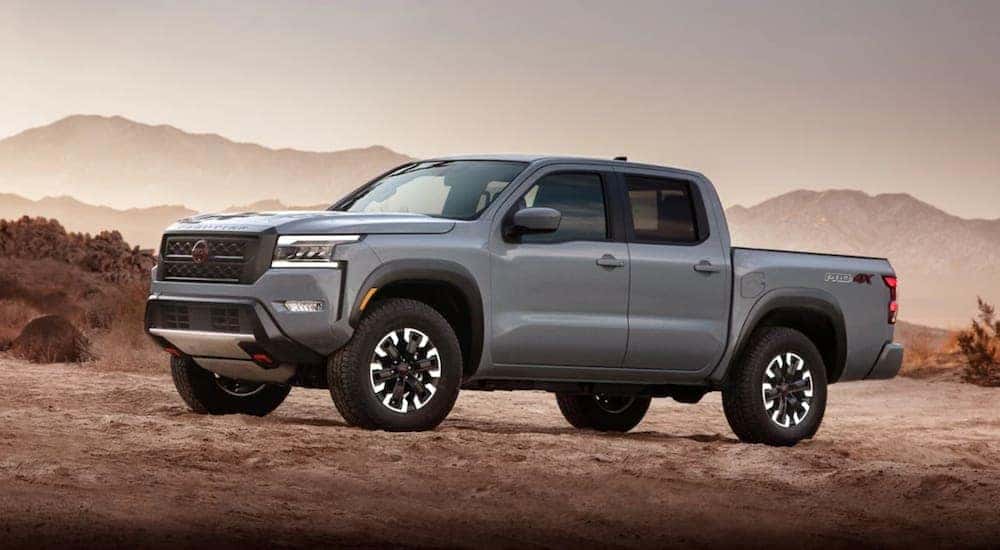 Still In The Fight
The Pathfinder is looking towards a more rugged, sporty horizon, while the Frontier is looking to compete with midsize trucks from the likes of Toyota, Chevy, and Ford by meeting them on their own turf. The first bite is with the eye, and it's always good to make the best first impression you can. While the old designs of these vehicles weren't bad by any means, they were exactly that… old. Automakers are starting to roll out their new cars and trucks for the upcoming year, and any manufacturer that wants to remain in the game has to give the buying public a fresh, modern look to be seen as anything other than an afterthought.
Nissan can't afford to be seen that way any longer, and finally, these two new redesigns are a way to stand out in their field. No longer is it acceptable to have one or two "halo cars" to guide the rest of your model line. Each and every car you make has to be able to stand up on its own merits, or you risk being left behind. If you haven't given Nissan a look recently, maybe head down to your local dealer. There's more going on at Nissan than meets the eye.