Which Nissan Sentra Is Right for You?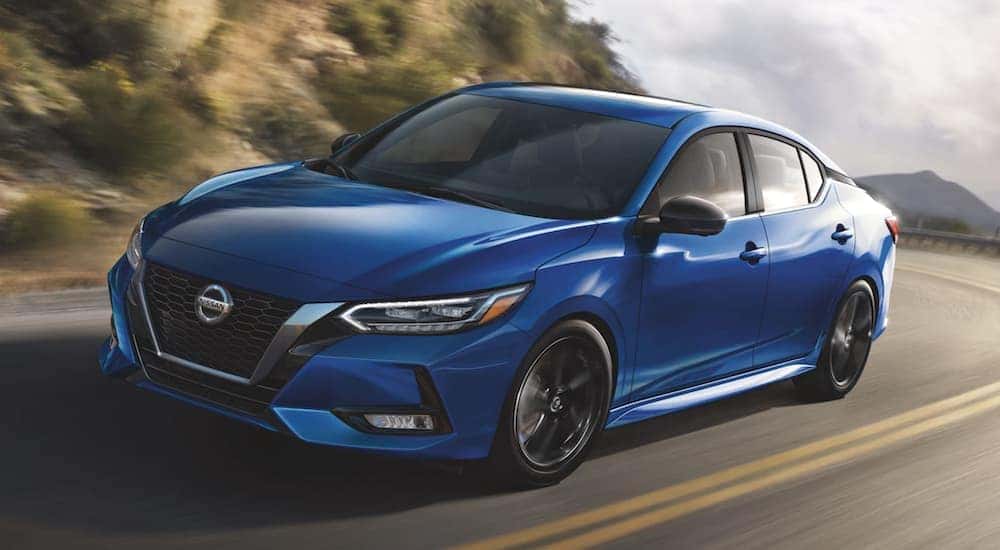 Nissan's lineup of vehicles includes some of the best cars, trucks, and SUVs around, with tons of different options to choose from. While a lot of other manufacturers have abandoned the sedan market, Nissan continues to offer numerous fantastic four-door cars for its fans. Between the subcompact Nissan Versa and the midsize Nissan Altima sits the Nissan Sentra, a compact sedan that's perfect if you want something modest without being minuscule. With four different trims to choose from, however, picking the right 2022 Sentra to meet your needs can be tricky.
Picking the right Sentra becomes a lot easier when you choose a dealership that will work for you and help you find the car with everything you need. You could try typing "Nissan Sentra for sale near me" into the search engine of your choice, but leaving it to chance is a recipe for disaster. Here at Thomas Nissan of Joliet, we are committed to putting the needs of our customers first every day and helping you drive away in a car that you will love for many years to come. Let's take a look at the trims and options that are available for the 2022 Sentra to get a sense of which one is right for you.
2022 Sentra Trims
Before getting into any specifics, let's take a moment to briefly discuss what each trim is and what it represents. The standard trim for the Sentra is the S, followed by the SV, which has some added features. Finally, the SR and SR Midnight Edition trims bring more features and options. This will be important as we look at what the Sentra offers––especially exterior and interior features where the differences between these trims can be pretty substantial.
The overall design and configuration of the Sentra remain the same across all four trims, including its four-door sedan build. No matter which Sentra you choose, you get plenty of comfortable seating in the front and rear so that up to five passengers can all stretch out and go for a ride together. The trunk of the Sentra has just over 14 cu.ft. of cargo space available, and all three models get outstanding fuel economy, so you can get around town or go for a trip without spending too much on gas.

Engine and Performance
One of the great things about the 2022 Nissan Sentra is that all four trims come with the same impressive engine, so you don't have to pay more to own a sedan that's fun to drive. You get a 2.0L four-cylinder engine in every Sentra, which delivers 149 hp and 146 lb-ft of torque and comes paired with a Continuously Variable Transmission (CVT). Every Sentra comes with front-wheel drive, so they all feel about the same in terms of overall performance.
There is one difference worth pointing out, however, which is the brakes on the Sentra. The standard S trim features front disc brakes and rear drum brakes, while the other trims feature both front and rear disc brakes. This isn't a huge difference that you're likely to feel too much, but if you're someone who really appreciates precise stopping power, then the SV or SR might be a better choice for you.
Exterior Features
As we look at the exterior of the 2022 Sentra, we'll start to see some notable and significant differences between the four trims. All four feature active grille shutters and Intelligent Auto Headlights. But while the S and SV trims have halogen headlights, the SR and SR Midnight Edition feature LED headlights, LED signature daytime running lights, and LED foglights. All four trims have power outside mirrors, but the SV and above have heated outside mirrors to improve visibility in cold temperatures. The two SR trims go a step further with LED turn signal indicators on the side mirrors.
The SR and SV (but not the SV Midnight Edition) have a power sliding glass moonroof available, though it's not standard on either of them. You'll find different wheels on all four trims. The S has 16-inch steel wheels, the SV has 16-inch aluminum-alloy wheels, the SR features 18-inch aluminum-alloy wheels, and the SR Midnight Edition sports black 18-inch wheels. Their tires are different sizes to match the size of their wheels, but all Sentra models come with all-season tires for good overall performance.
Interior Comfort and Technology
Inside the Nissan Sentra, you will find a number of differences between the various trims, so this is an area to pay special attention to. The standard S trim comes with air conditioning, power windows and door locks, and remote keyless entry with push-button ignition. Dual-zone automatic temperature control is available on the SV trim and comes standard on the SR trims. The SV and SR trims also come with Nissan Intelligent Key with push-button ignition, which gives you added functionality through the key fob. The SR and SR Midnight Edition even come standard with a remote engine start system, which is available on the SV.
A six-way adjustable driver's seat is standard on all Sentra models, though the SR and SV have available two-way power lumbar functionality––a four-way adjustable front-passenger seat is standard across all four trims. The S trim comes with standard cloth seating, while the SV has premium cloth seating, and the SR trims feature sport cloth seating with contrast orange stitching for an extra touch of style. For more luxury, Prima-Tex seats are available on the SR and quilted leather seats on the SV. A leather-wrapped steering wheel is standard on the SV, SR, and SR Midnight Edition, but not the S; you can also get heated front seats and a heated steering wheel for the SV and SR.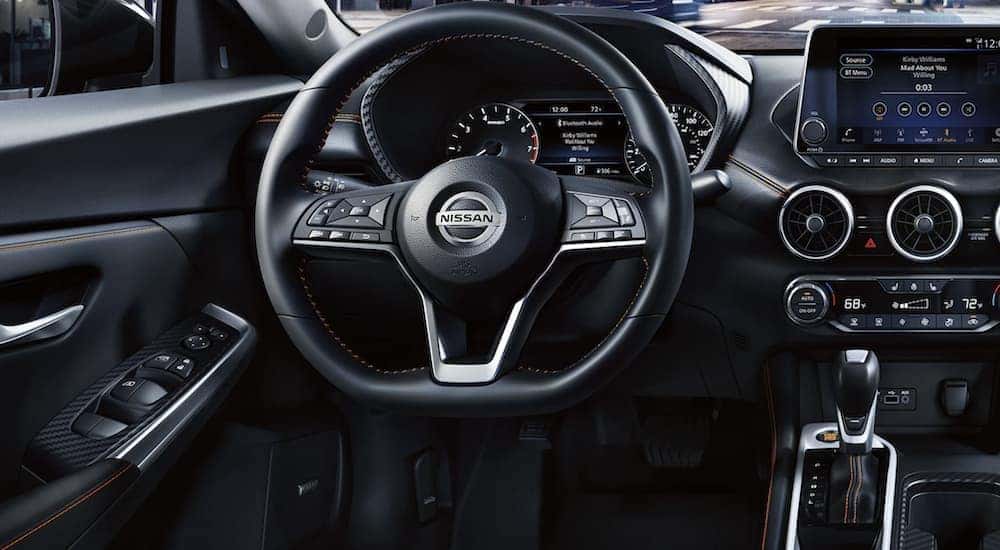 Infotainment Systems
The standard S trim comes with a 4.2-inch Advanced Drive-Assist Display for the driver, a seven-inch color infotainment display, and a four-speaker sound system with support for Apple CarPlay and Android Auto. With the SV and SR trims, you get a seven-inch Advanced Drive-Assist Display, an eight-inch color infotainment screen, and a six-speaker sound system; the SR trim also has an eight-speaker Bose Premium audio system available. All four models have steering wheel-mounted audio controls and USB ports, though the SV and SR trims have more inputs.
Safety Features
One of our favorite things about the Nissan Sentra is that every model comes with an impressive collection of advanced safety features standard. You get a comprehensive airbag system throughout the interior, as you would expect, plus cruise control is standard––Intelligent cruise control is found on the SV and SR trims. Every 2022 Sentra comes with Intelligent Forward Collision Warning and Automatic Emergency Braking with Pedestrian Detection.
You also get a Lane Departure Warning and Blind Spot Warning in every Sentra, plus Rear Automatic Braking and Rear Cross Traffic Alert to help when backing up and maneuvering in parking lots. One of the few optional safety features on the Sentra is an Intelligent Around View Monitor, which gives you a virtual view around your vehicle. This is only available on the SR and not the other three trims, but otherwise, every model has some of the best safety features on the road.
Which Sentra Is Right for You?
As you can see, the differences between the trims are minimal in some ways but quite pronounced in others. If you're looking for a great sedan with fantastic safety features that will save you money and is a lot of fun to drive, then the standard S trim could be right for you. For some improved interior options and features, plus larger available wheels and other details inside and out, you should check out the SV trim. However, to fully experience everything the 2022 Sentra has to offer, the SR trims give you a fantastic drive and everything that you could want in a sedan.